People's Daily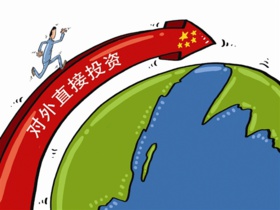 China became a net capital exporter in 2015, marking the first time that Chinese investment overseas exceeded foreign investment in China, according to a report issued on Nov. 23.
The Blue Book of Chinese Enterprise Globalization (2016), compiled by the Center for China and Globalization, pointed out that China's outward foreign direct investment (OFDI) in 2015 topped $145.6 billion, up 18.3 percent year on year. This also marks the first time that China's OFDI ranked second in the world. Meanwhile, the amount of foreign capital in China was $135.6 billion in 2015.
The report added that the world witnessed rapid growth of Chinese enterprises making overseas purchases or participating in mergers in 2015-16. Overseas mergers and acquisitions have topped $110 billion since the beginning of 2016, while the number for 2015 as a whole was $106.8 billion.
In particular, enthusiasm for investments was apparent in the U.S., Europe and some Asian countries, according to the report, which noted that 2015 to 2016 was a "golden era" for Chinese enterprises investing overseas.
Addressing a seminar on Nov. 23, CCG senior researcher He Weiwen, who is also a former economic and commercial counselor at the Chinese consulates in New York and San Francisco, pointed out that Chinese enterprises tend to invest heavily in real estate development, but there is inadequate focus on high-end manufacturing, such as in the bio-pharmaceutical industry.