By He Yin, People's Daily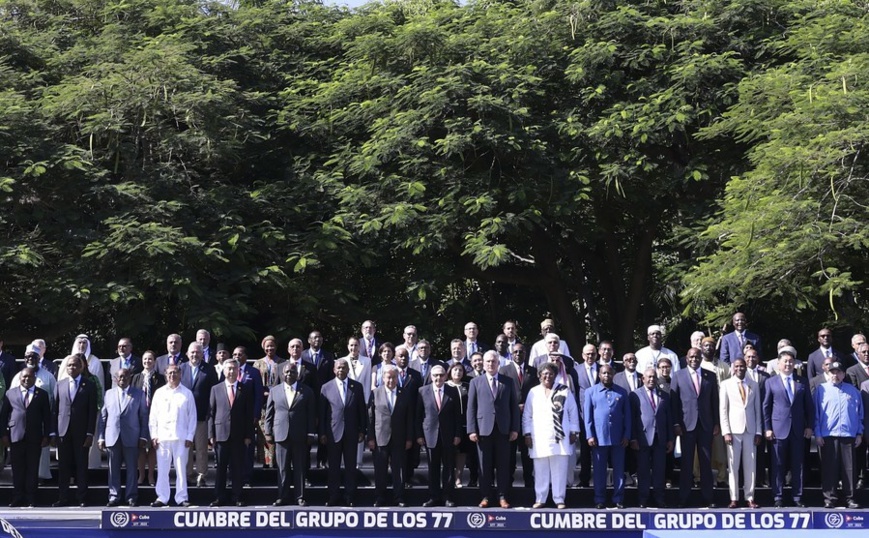 Delegates attending the Summit of the Group of 77 (G77) and China pose for a group photo in Havana, Cuba, Sept. 15, 2023. (Xinhua/Ding Haitao)
The Summit of the Group of 77 (G77) and China recently kicked off in Havana, Cuba. The event was attended by 31 heads of state and government, multiple heads of international and regional organizations, as well as high-level delegations from 116 countries.

On this important multilateral cooperation platform for developing countries, China, together with other developing countries, has held high the banner of development, focused on coordination and cooperation to address current challenges, and sent a strong voice of making global governance fairer and more equitable. This has sent a positive signal of solidarity and self-determination among Global South countries.

The world is undergoing changes on a scale unseen in a century. Developing countries are becoming stronger. South-South cooperation is playing an increasingly important role in driving the momentum of collective rise of developing countries and in sustaining the continued global economic growth.

At the same time, however, unilateralism and hegemonism are becoming rampant. Some countries are resorting to such practices as unilateral sanctions, decoupling, and disruption of industrial and supply chains, seriously undermining the legitimate development rights and interests of developing countries and their space for development.

Developing countries generally hope to strengthen solidarity and cooperation, safeguard their development rights, uphold equity and justice, and make global governance fairer and more equitable.

The summit adopted the Havana Declaration. It stressed the urgent need for a comprehensive reform of the international financial architecture and a more inclusive and coordinated approach to global financial governance, and rejected unilateral sanctions against developing countries.

It fully proves that the G77 and China, practicing true multilateralism, represent a force of justice pursuing solidarity, cooperation and development. They firmly safeguard international equity and justice, strive to make a stronger voice of developing countries, and protect the common interests of developing countries.

UN Secretary-General Antonio Guterres termed the G77 and China "a champion of multilateralism" in his speech, saying they will always be essential for the UN system.

As the world's largest developing nation and a natural member of the Global South, China breathes the same breath as other developing countries and pursues a shared future with them.

As the world has entered a period of turbulence and transformation with increasing uncertainties and instabilities, China is committed to building a Global South community with a shared future, encouraging developing countries to stay true to the original aspiration for independence and greater collective strength through unity, to advocate equity, justice and inclusiveness, and to pursue development, revitalization and win-win cooperation.

Only by rejecting bloc confrontation and the Cold War mentality and seeking to resolve differences and disputes between countries by peaceful means can developing countries better maintain world peace and tranquility.

Only by actively making their voice heard loud and speaking up for justice on the international stage can developing countries constantly strengthen their voice and representation in global governance and better safeguard their common interests.

South-South cooperation is always a high priority in China's cooperation with other countries. It is always a staunch advocator and active contributor to global development.

Today, China provides development assistance to more than 160 countries, joins hands with more than 150 countries in building the Belt and Road, and works with over 100 countries and international organizations to advance the Global Development Initiative (GDI), showing its role as a responsible major country.

China will continue to maintain close communication and coordination with G77 members in order to optimize allocation of development resources, ensure efficient use of public goods of the Belt and Road Initiative (BRI) cooperation, and resolve problems in development.

Participants from many countries believe that China's active promotion of South-South cooperation has played an important role in promoting social progress and improving human welfare in developing countries.

Nicaraguan President Daniel Ortega noted that China's assistance to the people of Asia, Africa, and Latin America is provided with no conditions attached, and has contributed to the social progress and well-being of developing countries.

Chinese President Xi Jinping has proposed the vision of building a community with a shared future for mankind, the BRI, the GDI, the Global Security Initiative, and the Global Civilization Initiative, which offer a Chinese approach to lasting peace, greater development, and closer cooperation in the world, and also provide an important platform for deepening South-South cooperation.

The declaration approved by the summit incorporates multiple Chinese ideas and propositions, explicitly stating that relevant parties should strive to achieve global development and win-win cooperation based on the principle of extensive consultation, joint contribution, and shared benefits, promoting the building of a community with a shared future for mankind.

This once again demonstrates that the Chinese approach is in line with the trend of the times and meets the common expectations of developing countries for development and cooperation.
Cuban President Miguel Diaz-Canel Bermudez pointed out that the GDI is of great significance and value, and this inclusive initiative conforms to the trend of establishing a new international order featuring equity and justice.

Djiboutian Prime Minister Kamil Mohamed stated that developing countries should explore relevant mechanisms and measures to promote domestic production and technological progress, thereby promoting sustainable development, and the GDI proposed by China is in line with this.

China stands firmly on the right side of history, and believes that a just cause should be pursued for the common good. No matter what stage of development it reaches, China will always be part of the developing world and a member of the Global South.

No matter how the international landscape changes, China will remain a sincere friend and reliable partner of developing countries, always firmly support and stand together with the G77, and stay committed to realizing their common development and rejuvenation and an even brighter future for mankind.