By Zhu Jinyi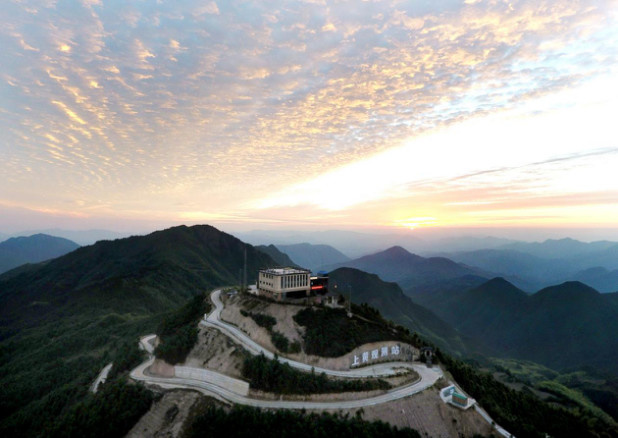 Photo shows the Shanghuang Atmospheric Boundary Layer and Eco-Environment Observatory sponsored by the Chinese Academy of Sciences in Wuyi county, east China's Zhejiang province. (Photo by Zhang Jiancheng/People's Daily Online)
The ever-changing meteorological phenomena are an important part of the world's ecological system. Assisted by advanced technologies, China has launched various types of meteorological services that not only forecast weather, but also contribute to environmental protection and ecological progress.

Earlier this year, an aircraft carrying over 30 atmospheric observation devices took off from Beijing, flew over plants in suburban areas and returned with a set of real-time data on atmospheric composition.

The data were used to analyze the concentrations, travel path, and influence of chemical components in the atmosphere, so as to help with the targeted prevention of atmospheric contamination.

To acquire the data, Zhao Delong, senior engineer with the weather modification office of Beijing, carried out hundreds of air survey tests and adjustments with his colleagues, blazing a trail in the construction of an advanced platform that uses aircraft to detect atmospheric composition and in the combination of specialized instruments.

Zhao believes that the platform, as it matures, will provide more scientific support for the reduction of industrial emissions and governments' decision-making in preventing and controlling air pollution.

A monitoring report completed by China's Fengyun meteorological satellites in June 2022 showed that cyanobacterial blooms emerged near the west bank and in the middle of the Taihu River in the Yangtze River delta, which is one of the largest freshwater lakes in China.

Then a campaign launched jointly by meteorological and ecological departments and involving relevant authorities from different regions was kicked off to prevent and control the blooms of harmful algae.

The Fengyun meteorological satellites, which boast strong Earth observation capabilities, are competent to dynamically monitor and evaluate ecology in key areas. They offer regular ecological monitoring and evaluation products that cover more than 20 aspects, such as vegetation, bodies of water, dust storms, perpetual snow, etc., and help better obtain environmental quality parameters of wetlands, forests, and other ecological systems.

Today, China has basically built the world's largest comprehensive meteorological observation system, which includes seven atmosphere background watch stations, 27 climate observatories, over 70,000 automatic ground meteorological observation stations, 120 upper-air meteorological stations, 242 new-gen weather surveillance radars, and seven in-orbit Fengyun satellites.

The system, which offers full and precise meteorological data, lays a solid foundation for eco-environment surveys as well as ecological protection and restoration.

In the first half of 2022, a drought that almost dried up grasslands and lakes in Madoi county, Golog Tibetan autonomous prefecture, northwest China's Qinghai Province, made people frown.

Therefore, local authorities employed artificial precipitation to restore the damaged ecology. Cloud seeding was carried out by an aircraft that flew for nearly three hours in the sky. Shortly after the aircraft landed, a long-anticipated rain started falling.

Over the recent years, pilot programs of weather modification have been launched in a number of major ecological nature reserves across the country. In particular, artificial precipitation has become a regular and large-scale practice that helps with water replenishment, water and soil conservation, vegetation recovery, and biodiversity protection.

According to statistics released by China Meteorological Administration, the country could boost precipitation of around 280 billion tons each year through cloud seeding.

China now ranks first in the world in terms of the scale of weather modification, from detecting "cloud made of water" through high technologies to developing radar-directed and automatically launching ground systems, and to the successful maiden flight of the country's first weather modification drone, the Ganlin-1. The country has become a vital force in ecological restoration.

Wind and sunlight are climatic resources that can be turned into clean energy. Where should wind farms and photovoltaic panels be built, and how should wind and solar energy be used to ensure smoother power grid dispatching and stable power supply? The answers are given by meteorological departments.

In the provincial meteorological service center of Central China's Hubei province, an intelligent supporting system for decision-making in meteorological services, which is the first of its kind in China, is translating meteorological forecasts into power forecasts, helping the power generated through new energy connect to the state grid.

In north China's Inner Mongolia autonomous region, a numerical prediction system for wind energy has extended its forecast effectiveness from 8 hours to 100 hours and raised its spatial resolution to 2.7 kilometers. This has well tackled the challenges in connecting wind power to the state grid and led to a continuous rise in the wind power generating capacity.