By Zhao Zhanhui from People's Daily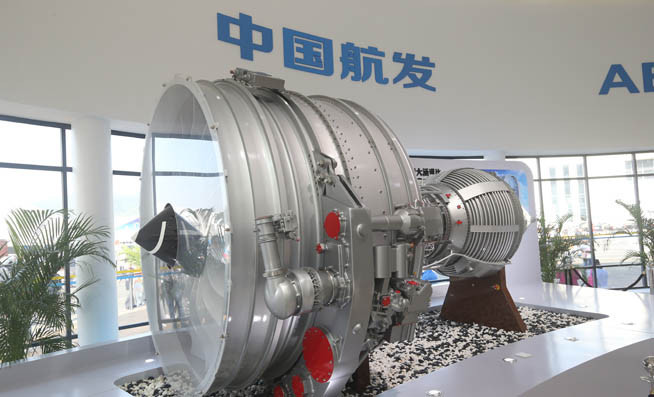 Photo taken is the aero-engine developed and manufactured by Aero Engine Corporation of China (AECC), a Chinese aircraft engine manufacturer. (Photo by AECC)
"China plans to catch up with the advanced aero-engine producers in 20 years," an industry insider gave the timetable while talking about when the large Chinese aircraft will be equipped with domestically developed engines.

Nearly 600 sets of equipment developed and produced by Aero Engine Corporation of China (AECC), Chinese aircraft engine manufacturer, were displayed during the military parade held in the Zhurihe military training base in North China's Inner Mongolia Autonomous Region, as part of the celebrations of the 90th anniversary of the founding of the People's Liberation Army (PLA).

The equipment included seven major series of turbofan, turbojet and turboprop aero-engines, as well as two auxiliary power units and two drive systems, which have now been applied to a variety of military aircraft and helicopters.

Aero-engine is of decisive significance for the aviation industry as it is not only the "heart" of a country's competitiveness in the field of airborne weapons, but also a driving force for civil aviation.

The development of aero-engines and gas turbines has been listed by China as the top one among the 100 big projects of its 13th Five-Year Plan, the country's roadmap for 2016 to 2020.

It is learnt that the delivery reliability of China-made aero-engines in the first half of 2017 went up by 8% compared with the same period of last year, which means a significant increase. The delivery rate of a key model even grew by 10% while the output of the product surged by 34%.

Besides, the domestically manufactured aero-engines have also witnessed an improvement in reliability and quality, with their serviceability now standing above 90%.

Only five countries in the world--the five permanent members of the United Nations Security Council--are able to produce aero-engines, Cao Jianguo, chairman of the AECC, pointed out, adding that though being in this club, China is still hindered by out-of-date technologies.

It takes more than 20 years to develop a new-generation aero-engine, twice the lead time of an aircraft. It is the world's most complicated machinery system that combines multiple disciplines.

"Design capability is China's biggest weakness," admitted Yin Zeyong, head of AECC's science and technology commission, adding that short boards lengthened the time to develop new products. In addition, insufficient codes and experiences are also roadblocks laying ahead.

Leading the country's aero-engines to success will require pooling efforts at all levels and of all circles to make up for the short boards, Luo Ronghuai, vice chairman of the AECC, commented on industry breakthroughs and barriers ahead.

"Related enterprises are sparing no efforts to support us," Luo elaborated. "They are supporting us even at their own cost when we need specific steel in very limited amount," he said.

Luo added that his company has also set up research platforms together with universities and the Chinese Academy of Sciences to explore cutting-edge technologies.

According to China's top-level design, the country will establish a development and research system for aero-engines before 2020.

The AECC is currently planning on a comprehensive operation and management system covering research, manufacturing, supplier management, and service assurance, with research as the core, said Wang Yingjie, director of the management innovation department of the AECC.

In addition, a self-developed standardized code system for research and development will be completed, Wang disclosed, adding that the AECC will enhance its strength in the development of civil aero-engines, in order to equip civil aircraft such as the C919 with China-developed engines as early as possible.