By People's Daily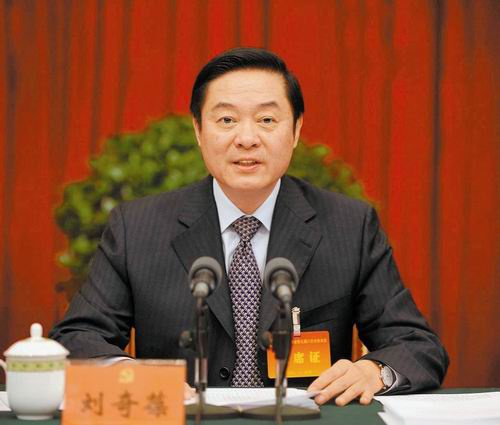 China's "Belt and Road" initiative, since it was put forward by Chinese President Xi Jinping three years ago, has yielded more than its expected harvest, Liu Qibao, head of the Publicity Department of the CPC Central Committee, said on Monday at a seminar in Xi'an, capital of northwest China's Shaanxi Province.

Liu, also a member of the Political Bureau as well as secretariat of the CPC Central Committee, made the remarks at the International Seminar on the Belt and Road Initiative. In a keynote speech entitled "Linking People's Hearts for Win-win Cooperation," he said that a growing number of nations and international organizations have engaged in the initiative.

"China has inked cooperative agreements with more than 30 countries and launched manufacturing and production capacity cooperation with more than 20 countries along the routes," Liu further explained.

Citing a spate of symbolic projects represented by the Asian Infrastructure Investment Bank (AIIB) and the Silk Road Fund as evidence, the official added that China and en-route nations have deepened their financial cooperation and intensified their exchanges in culture, education, technology, tourism and business.

The Belt and Road initiative, which serves the common interests of all parties, carries the aspirations of people from around the world for a better life, he said stressing its significance.

China sincerely welcomes more involvement from en-route countries as well as other nations around the world in this initiative, he said, adding that since a "Chinese proposal" contains oriental wisdom, the initiative aims to bring the world common prosperity.

Liu called on the countries along the route to pursue win-win cooperation by showing mutual respect and trust, valuing openness and inclusiveness, sticking to pragmatic innovation and maintaining peaceful development, in order to build a "green, healthy, intelligent and peaceful" Silk Road together.

When advancing the initiative, human exchanges should be given equal importance as economic cooperation, Liu stressed.

He further explained that in order to maintain sustained cooperation and deliver each other the message of win-win cooperation, China and en-route countries, in the past three years, have hosted thematic years on state, culture and tourism, organized book fairs as well as other exhibitions, and also held art festivals. Dialogues between think-tanks and media were also launched, the head added.

China and countries along the routes now also witness closer cooperation on culture and charity, according to him, citing the archeological cooperation between China and Uzbekistan as an example. What's more, China, together with Kazakhstan and Kyrgyzstan, has managed to include the millennium-old Silk Road into the World Heritage list.

He praised education cooperation as key to the initiative's success, saying that over the past three years, en-route countries have succeeded in implementing an overseas study program, establishing an education fund and reinforcing collaboration in talent training.

Underlining the importance of the coexistence of various cultures and the mutual understanding among peoples, Liu called on countries along the route to more closely cooperate on education, culture, media, sport and tourism.

"The Eurasian people, with different religious and cultural backgrounds, should join efforts to build a human community rooted in mutual respect and understanding," he concluded.