By Wan Yu from People's Daily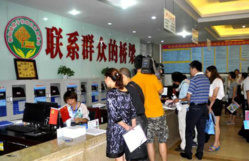 The government work report delivered by Chinese Premier Li Keqiang at the annual session of National People's Congress, China's top legislative body, on March 5 conveys positive messages in boosting people's welfare.

"The report has delivered a 'bonus package' in livelihood improvement," Huang Shouhong, head of the State Council Research Office and leader of the report's drafting team, told a press conference on Sunday.

He said that this year's report made it clear to ensure employment and improve people's livelihood and that the government should solve prominent problems of public concern.

The report also included specific measures to promote employment, cancel the roaming and long-distance charges, increase subsidies for basic health insurance for rural and urban residents, build a nationwide information network for basic health insurance and improve the natural disaster subsidy mechanism.

"All these measures show that the Chinese government continues to give top priority to the people in governance and China's economic growth is oriented to the people," Huang noted, adding that the report has laid out tangible measures concerning the treatment of smog, the relief of enterprises' financial burdens, improvement of broadband speed, and reduction of Internet charges.

In 2017, China will convene the 19th National Congress of the Communist Party of China, further implement the 13th Five-Year Plan (2016-20) and deepen the supply-side structural reform. Meanwhile, current administration has also come to the last year of its term.

"China's 13th Five-Year Plan has achieved a good start," the work report said, illustrating that with a stable yet positive economic trend, its GDP has reached 74.4 trillion yuan ($10.8 trillion), presenting a 6.7 percent growth that dwarfs other major economies. China has also contributed to more than 30 percent of global economic growth.

The development target for China in 2017 is to maintain the GDP growth at around 6.5 percent, read the report, but added that the government will pursue better results in actuarial economic work.

Huang said some foreign media kept smearing down on the Chinese economy, claiming the economy will encounter a "hard landing" and even a "breakdown," but facts have proven they are wrong.

"China's economic development has its resilience, potential, advantage and an internal balance mechanism that can effectively counteract risks," Huang added.

To draft the report is to pool the people and the government's wisdom together and make democratic and scientific choices. Huang noted that the State Council and 27 media websites jointly launched an online campaign called "Share your thoughts with Premier Li" to collect opinions on the drafting of the work report.

By March 3, around 316,400 messages were posted online, of which more than 1,500 advices were forwarded to the drafting team. Moreover, nearly 2 million netizens have shared their thoughts via new media, microblogs, online forums and other channels.