By Shen Wenmin, Ji Peijuan from People's Daily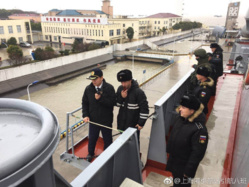 Pilots at the Port of Shanghai board a vessel. (Photo from Shanghai Maritime Pilots' Association)
Five Chinese organizations including the China Maritime Pilots' Association are going to conduct the country's first long-term training for foreign maritime pilots.

A total of 15 maritime pilots and 6 tug masters from Ghana's largest port, the Tema Harbor, and the second largest one, the Takoradi Harbor will receive the training in batches. A signing ceremony for the training was held in Shanghai on Mar. 12.

The first batch of trainees includes maritime pilots and tug masters from the Takoradi Harbor. As the second largest harbor and one of the economic pillars of Ghana, the second largest economy in West Africa, the port exports over 90% of Ghana's mineral production.

There are only 9 berths at its major docks with maximum depth of 10 meters, handling bulk carriers of 45,000 deadweight tonnage (DWT) at most.

In order to speed up the conveyance of mineral exports, the port uses unloading vessels at anchor ground to suit bulk carriers with size of over 80, 000 DWT and drafts of more than 11 meters.

In addition, the port has commenced an expansion project, proposing to build a berth with a capacity of 100,000 tons in phase-1 and one with a capacity of 200,000 tons in phase-2.

Over the 40 years since China launched the "reform and opening up" policy, China's ports have witnessed steady growth in both handling capacity and the number of visiting vessels, resulting an improvement in its proficiency.

Besides, the country has gained rich experience in piloting and tugging services. Chinese workers piloted 385,000 vessels in 2017, ranking the first in the world.

Considering that the port of Takoradi has never been visited by ships with a tonnage above 100,000, the major content of the training will be focused on navigation, u-turn, as well as berthing and unberthing of large vessels in complex and narrow waters, so that the unloading vessels of the port will better cooperate with large-tonnage ships.
The training will also include the piloting and tugging of container ships.