By Han Xin, Ge Mengchao, People's Daily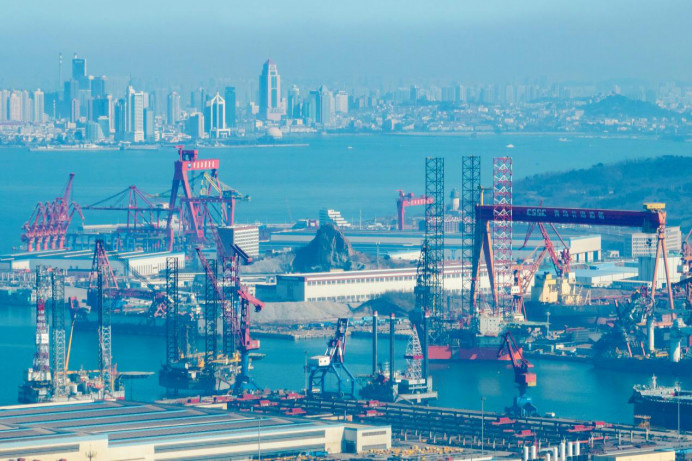 Photo taken on Feb. 26, 2023 shows a shipbuilding base in Xihai'an (West Coast) New Area of Qingdao, east China's Shandong province. (Photo by Han Jiajun/People's Daily Online)
The 14th National People's Congress (NPC), China's national legislature, opened its first session at the Great Hall of the People in Beijing on March 5.

Chinese Premier Li Keqiang delivered a government work report at the meeting on behalf of the State Council, reviewing the government's work in 2022 and the past five years and laying out key objectives for development in 2023.

Deputies to the 14th NPC said the country has acted on the general principle of pursuing progress while ensuring stability, and improved the quality and effectiveness of development. The new development philosophy has been embraced by the people, and firm measures have been taken to promote high-quality development.

The path of Chinese modernization is unfolding.

China's economy has posted continuous expansion. Last year, the country's GDP reached 121.02 trillion yuan, or $17.44 trillion, up 3 percent from a year ago. The Chinese economy now enjoys a more solid foundation and higher quality.

New growth drivers are increasingly underpinning China's development. In 2022, China's gross domestic expenditure on R&D for the first time surpassed the 3 trillion yuan milestone, and the value added of high-tech manufacturing grew by 7.4 percent year-on-year, 3.8 percentage points faster than that of the industrial enterprises above the designated size.

China continues to deepen reform and opening up. Zhang Weiyuan, deputy to the 14th NPC and head of Wuhan Hvsen Biotechnology based in central China's Hubei province, said the company enjoyed tax and fee reduction of over 6.6 million yuan last year thanks to tax relief for R&D costs and other policies, which allowed it to focus more on technology R&D.

Effective measures secure people's livelihood. Deputy Ma Yinping, also Party head of Xigouquan village, Linjing township, Zhenyuan county, Qingyang, northwest China's Gansu province, noted that last year, the village applied for a 3.1 million-yuan special fund for building a county-level demonstration project of rural vitalization, and all of the money was invested in infrastructure construction in the village. With this fund, the village paved 4,700 meters of hardened roads and connected 518 households to the roads.

China has beefed up investment in livelihood improvement and worked to meet people's basic living needs. Last year, the per capita disposable income increased by 2.9 percent from 2021 after deducting price factors, which was basically in line with the country's economic growth. Besides, the country has achieved its annual target in the creation of urban jobs.

The 2023 government work report set out the main goals and tasks of economic and social development, including expanding GDP by around 5 percent, creating about 12 million new urban jobs and keeping a 3-percent rise in the consumer price index.

NPC deputies believe that as long as China forges ahead with enterprise and fortitude, the giant ship of the Chinese economy will surely brave winds, break waves and sail to a brighter future.
The strong leadership of the CPC offers a fundamental guarantee for China's sustained and healthy economic and social development.

"China has gone through remarkable transformations over the past decade. The CPC Central Committee with Comrade Xi Jinping at its core has brought together the Chinese people of all ethnic groups to cope with complicated situations as well as risks and challenges," said deputy Li Zhi, who's also the mayor of Yueyang, central China's Hunan province.

"China will see a stronger impetus for high-quality development as long as it adheres to the leadership of the CPC, pursuing progress while maintaining stability," Li added.

China enjoys a solid material foundation, which supports the country in responding to both internal and external challenges.

"Today's China owns the most complete industrial system and a domestic market with the greatest potential in the world. As an important global manufacturing center, it accounts for 30 percent of the global manufacturing output," said deputy Zhang Lianqi, vice president of the Chinese Tax Institute.

This year, a series of major projects have commenced, enterprises are racing to expand their business abroad, and the catering industry is in recovery. They have offered solid support for the country's sound economic development and once again indicate the strong resilience and huge potential of the Chinese economy.

The continuous release of dividends from deepening reform and opening up has created a favorable environment for investment and entrepreneurship.

"Reform and opening up is the source of energy for China's development today," said deputy Huang Maoxing, also vice president of the Fujian Academy of Social Sciences in east China's Fujian province.

He said China should continue reforms to develop the socialist market economy, advance high-level opening up, seek growth momentum from reform and opening up, and maximumly release the impetus for innovation, entrepreneurship and creativity, so as to further stimulate entities.

China will accelerate the building of a new development pattern and consolidate the foundation of economic development.

Only by accelerating the building of a new development pattern can the country enhance its viability, competitiveness, development and sustainability amid foreseeable and unforeseeable risks and challenges, said Zhang Lianqi.

He suggested that China should focus on breaking down the main contradictions and problems that hinder the acceleration by consolidating strengths and minimizing weaknesses, to achieve higher-quality development that is more efficient, equitable, sustainable, and secure.