By Zheng Na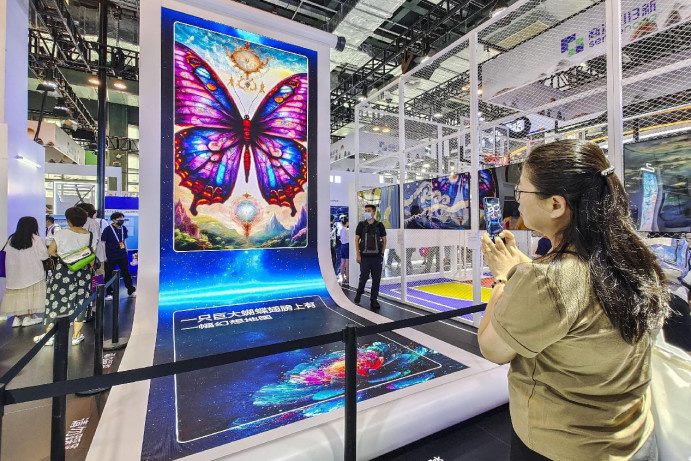 An AI-generated painting is exhibited at the 2023 World Artificial Intelligence Conference in Shanghai, July 6, 2023. (Photo by Wang Chu/People's Daily Online)
Recently, a metaverse-themed short drama called My Chinese Chic Boutique was released on a Chinese streaming platform, which tells a fantasy story of a modern girl accidentally traveling into a simulation video game.

One "actress" that drew attention in the drama is the hyper-realistic digital human "Guoguo." Without revealing her identity, audiences could hardly discern that she is a "non-human" performer.
In recent years, a trend of Artificial Intelligence Generated Content (AIGC) has been sweeping industries related to content creation, and the film and television industry is no exception.

In 1982, the first virtual singer in the world was created based on the character Lynn Minmay in the Japanese anime Super Dimension Fortress Macross. Entering the 21st century, Japanese virtual singers like Hatsune Miku and Chinese ones like Luo Tianyi gradually came into public view.

As technology develops, digital humans are not merely anime avatars. They are developing toward hyper-realistic human figures.

Hyper-realistic digital humans were not rare in film and television works, but they were mostly generated through computer graphics (CG), like the characters in Avatar and the "resurrected" Paul Walker in Fast and Furious 7.

Chen Hongwei, executive producer of My Chinese Chic Boutique, explained that digital humans in previous films and dramas were mainly created with CG-enabled analysis, scanning and modeling based on the appearance of real actors and actresses, while hyper-realistic digital humans like "Guoguo" have no real human prototype and are constructed through AI-CG combination based on the AI's understanding and imagination.

Having worked in the film industry for nearly 20 years, Chen firmly believes that the real change in the future film and television industry will come from further technological development. He told People's Daily that the COVID-19 pandemic once brought film production to a halt as people could not go outdoors, but it also catalyzed explosive growth for virtual production technology.

For example, over 50 percent of the content in the Season 1 of The Mandalorian was produced virtually without on-location filming. The actors performed in a semicircular LED studio.

However, Chen believes virtual production is just transitional. He proposed a concept of future films - Artificial Intelligence Engine Movie (AIEM). AIEMs are produced through virtual engines based on digital assets like digital humans, virtual scenes, virtual props, etc. Human directors only need to tell the AI what styles, length, and other standards are required, and the AI will provide options to choose from.

In fact, this is already happening. Chen knows many young directors who have never been to a film set or used a camera, but can make creative and stylish films relying on AI engines. For example, a content creator on Chinese video platform Bilibili, who is a graduate student, learned programming by himself and produced an animated series based on Chinese sci-fi writer Liu Cixin's novel. Basically all the production was completed by himself alone.

"Although this is just an enthusiast's attempt, which is far from a real film, the future of the film and TV industry may lie in the explorations of these young people," Chen said.

Undoubtedly, the era of AI is coming. How should professionals in the film and TV industry respond?

Insiders widely believe that AI's current strengths in film production are lower costs and higher efficiency, but the threshold for using AI tools is still high due to the lack of all-in-one workstations. Therefore, complete transformation of the industry will take some time.

In Chen's view, there are two types of creation - from zero to one, and from one to infinity. AI solves the latter, while human labor is unlikely to be completely replaced in the first.

Currently, some content creators are already combining human efforts and AI to produce visual contents.

Director Zhao Ji, who directed animated fantasy action films White Snake and New Gods: Yang Jian, has experimented with some open source AI image generation models with his team.

Zhao discovered that the most representative works of current AI image generation technology are anime-style characters. This essentially results from AI gradually acquiring extensive aesthetic standards through large-scale user screening, but it leads to issues like aesthetic homogenization.

Regarding this, Fu Sheng, president of AI technology company OrionStar, said the film industry, as a creative industry, should not use AI tools that adopt generic models, but embrace vertical, personalized models. This also presents a new opportunity for future AI development, involving differential adjustment of AI models.