By Wang Zheng, Liu Wenxin, People's Daily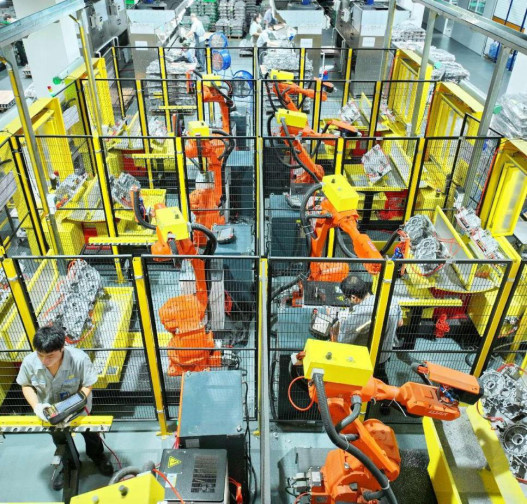 Technicians control robotic arms to produce new energy vehicle parts in a smart factory in Ganzhou, east China's Jiangxi province. (Photo by Zhu Haipeng/People's Daily Online)
In the first three quarters, the total value added of industrial enterprises above the designated size grew by 4 percent year on year, 0.2 percentage points higher than that of the first half year.

China's industrial production has achieved stable growth, with continuous optimization of industrial structure and positive development momentum in the manufacturing sector. The overall industrial economy has shown signs of stabilization and recovery.

"The proportion of value-added output of manufacturing to GDP remained relatively stable in the first three quarters this year. Manufacturing investment continued to grow, with the growth rate gradually increasing since July," said Zhao Zhiguo, spokesperson of the Ministry of Industry and Information Technology (MIIT).

In August, profits made by industrial enterprises above designated size increased by 17.2 percent year on year. Both operating income and profits have turned positive, indicating a faster recovery in enterprise performance. In particular, small- and medium-sized enterprises (SMEs) achieved significant progress.

In the first three quarters, China fostered 12,000 specialized and sophisticated enterprises that produce new and unique products and 200 featured SME clusters, which played an important role in reinforcing and upgrading weak links in the industrial chains.

According to Zhao, investment in manufacturing kept growing in the January-September period. In particular, the investment in high-tech manufacturing increased by 11.3 percent year on year in the first three quarters, and has kept a double-digit growth for 36 consecutive months. Additionally, the decline in industrial exports has narrowed, Zhao added.

Specifically, basic industries have maintained steady growth. The value added of equipment manufacturing went up by 6.0 percent, 2.0 percentage points faster than that of the whole industrial enterprises above the designated size. In September, the electrical machinery, chemical, electronic, and automotive industries contributed nearly 60 percent to the overall industrial growth.

At the same time, emerging industries showed strong momentum. According to data from the China Association of Automobile Manufacturers, the production and sales of new energy vehicles (NEVs) in the first three quarters reached 6.31 million and 6.27 million units, growing 33.7 percent and 37.5 percent year on year, respectively. NEVs accounted for 29.8 percent of the total sales of new vehicles.

The new materials industry embraced vigorous and accelerated development. The total output value of the sector maintained double-digit growth in the first nine months this year. Breakthroughs were made in the development of a number of key materials, including high-temperature superconducting materials and perovskite solar cells.
Photovoltaic products and aerospace equipment achieved rapid growth, while the shipbuilding industry continued to lead globally in three major indicators.

"We have been vigorously accelerating the development of advanced manufacturing. In the first three quarters, the investment growth in high-tech manufacturing was 5.1 percentage points higher than that in the overall manufacturing sector," said Zhao. During the same period, the production of solar cells and charging piles went up by 63.2 percent and 34.2 percent, respectively.

The recently concluded Hangzhou Asian Games just showcased a variety of innovative applications that amazed global viewers. These included 8K livestream, virtual reality game viewing, a stereoscopic transparent mesh screen, ground projections, massive video interactions inside and outside the venues, and 360-degree replays. These cutting-edge technologies provided an immersive and multi-perspective visual feast for audiences worldwide.

The extensive use of digital technologies has brought profound changes to the production models and forms of traditional industries, effectively promoting comprehensive data circulation.

"Currently, as enterprises accelerate digital transformation, intelligent factories are built massively and with higher quality. Nearly 10,000 digital workshops and smart factories have been constructed nationwide," said Zhao.

Emerging information technologies like industrial internet are seeing rapid application and integrated into 45 major categories of the national economy, empowering the digital, networked and intelligent transformation and upgrading of the real economy.

New scenarios, solutions and models of intelligent manufacturing are helping enhance quality and efficiency of industries. In recent years, the core sectors of China's AI industry have grown steadily, with over 4,400 enterprises. Innovative achievements like smart chips, development frameworks and general large models continue to emerge. Cloud computing, intelligent computing and supercomputing have developed in a coordinated way. China now ranks second globally in terms of computing power, and major projects are advancing rapidly, including one that aims to channel more computing resources from the eastern areas to the less developed western regions.

So far, the 5G technology has been applied in 67 major categories of China's national economy. The number of projects employing 5G and industrial internet exceeds 7,000 nationwide, and there are 2.22 billion users of mobile internet of things terminals.

The close integration of AI and manufacturing has significantly empowered the transformation and upgrading of the real economy, said Tao Qing, an official with the MIIT.
He explained that AI, represented by large models, is characterized by rapid technological innovation, wide application, and intense international competition. It is profoundly changing manufacturing production models and economic forms, demonstrating its ability to empower industries, Tao added.