By Ye Zi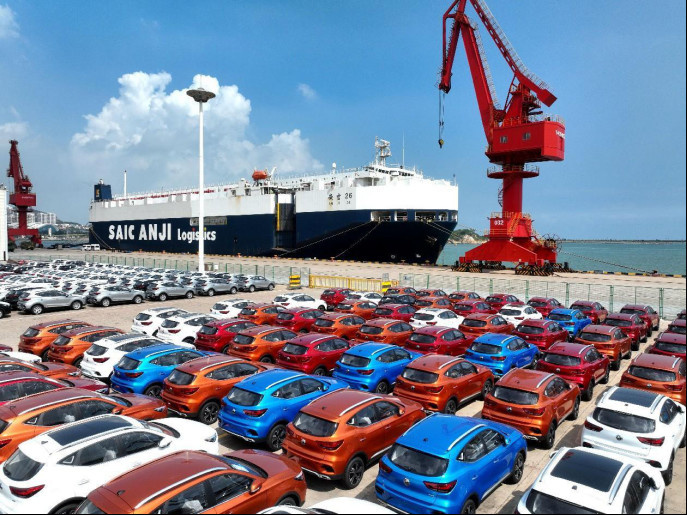 A ro-ro ship docks at a terminal of the Lianyungang port in east China's Jiangsu province to load vehicles to be exported, Aug. 20, 2023. (Photo by Wang Chun/People's Daily Online)
On an exhibition square of Beijing-based Beiqi Foton Motor, over 10 models of vehicles were displayed, including heavy trucks, light trucks and medium-duty ones.

According to an employee of the Chinese carmaker, these vehicles not only play an important role in China, but also are welcomed by African consumers.

For example, the company's "VAN" has emerged as one of the mainstream brands in South Africa's public transportation sector. This June, the company's latest model X55 took the crown of the Compact Family category in the 2023 South African Car of the Year competition.

People take Chinese buses and drive Chinese private cars in South Africa. In Egypt, China-manufactured cars are also seen running on the streets. Chinese vehicles are now a common sight on the African continent.

Osama Aboul-Magd, head of the Egyptian Automotive Dealers Association, noted that Chinese vehicles appeal to consumers because of their excellent quality. This explains why Chinese cars are able to penetrate the African market.

Taking into consideration the demands of the locals, Chinese automakers provide them with popular models, reasonable installment payment plans, as well as thoughtful after-sales services. This has given Chinese vehicles key advantages in Africa.

Some analysts believe that Chinese auto brands focus on economical performance, safety, innovation and localized production, which has enabled them to break through barriers and gain a foothold in the intensely competitive market.

For Africans, Chinese vehicles are used for not only transportation, but also production. Whether working as ride-hailing drivers, truckers, or transit operators, many Africans rely on Chinese vehicles to earn a living.

Apart from vehicles, Africans also love Chinese bicycles, motorcycles, and trains. Sturdy and durable Chinese-made bicycles and motorcycles have been favored by African friends for years.

In the past, they used Chinese bicycles to transport bananas and rode Chinese motorcycles to go on dates. Today, they drive Chinese cars for transportation and even use them as wedding vehicles.

Chinese vehicles are tools for production and life, witnessing Africans' ever-improving livelihood.

Globally, more and more people are embracing Chinese cars. Chinese vehicles have gained a huge base of "followers" around the world.

In Southeast Asia, an experience store of a Chinese car brand in Bangkok received many potential customers even before its official opening.

In Central Asia, new energy buses and private cars produced by Chinese brands are commonly seen on the streets of Tashkent, capital of Uzbekistan.

In the Middle East, investment institutions managed by the government of Abu Dhabi, the United Arab Emirates, have made successive investments in Chinese automobile manufacturers.

In South America's Chile, Chinese brands like Maxus, Chery, Great Wall Motor, Changan Automobile, JAC Motors, Foton, and JMC Motors have already become the first choice for local car buyers.

China exported over 2 million vehicles in 2021 and over 3 million in 2022. According to the China Passenger Car Association, the country's auto exports this year are expected to reach 4 million units.

China is likely to become the world's top automobile exporter this year.

The popularity of Chinese vehicles overseas can also be proved on short video platforms.

Users from different countries have shared their experiences of driving Chinese cars on social media. Some even started learning Chinese in order to experience the voice-control functions in Chinese smart cars.

The automotive industry has long been highly valued by major manufacturing powerhouses. In recent years, China's auto industry has made great progress, striding towards the global market. "Going global" is becoming a key phrase for Chinese automakers.

Especially in the era of electric vehicles, Chinese companies are standing out for their advantages in technology, models, pricing, industrial chain, and other aspects, gaining wider acceptance globally. With the continuous emergence of new technologies and expansion of the market, the Chinese auto industry is believed to bring more surprises to global consumers.