By Bai Yang from People's Daily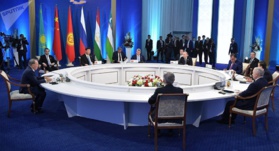 Chinese President Xi Jinping and his Kazakh counterpart Nursultan Nazarbayev, during their talks in Astana on Thursday, agreed that they will accelerate synergy between the Belt and Road Initiative and Kazakhstan's new economic policy of the "Bright Road", in an effort to integrate their development strategies in an in-depth manner.

The two countries will focus on aligning the construction of the New Eurasian Land Bridge and the China-Central and Western Asia Economic Corridor with the Kazakh strategy of building an international logistics corridor.

Meanwhile, they will join efforts in connecting the international production capacity cooperation with Kazakhstan's push for industrialization, sharing China's transportation advantages on land and by sea with the world's biggest landlocked country, and linking China's "digital Silk Road" initiative with the "digital Kazakhstan" strategy.

China has vigorously promoted effective alignment of the Belt and Road Initiative with development strategies, plan, vision, economic policies of involved countries since the initiative was put forth in 2013.

The country has so far inked cooperative agreements with nearly 70 countries and international organizations, and compiled cooperative documents on building the China-Mongolia-Russia economic corridor, as well as papers on China's cooperation with Kazakhstan, Tajikistan and the Czech Republic.

All parties have deepened their political trust, reached consensus for cooperation and reinforced their coordination for sake of development by dovetailing their policies.

Xi has been thinking about how to reduce and remove deficit in peace, development and governance in a world full of uncertainties, which is also a challenge to mankind.

Against this background, lots of countries chose to echo the Belt and Road Initiative in a timely and proactive manner while some others are still waiting or doubting about the proposal. It also represents a competition between the "win-win cooperation" principle and "zero-sum" mentality.

It is an outdated mentality to seek one's own development at the cost of other countries' development and interests. Xi once pointed out that the Belt and Road Initiative is neither to start all over again nor to challenge the international order, but a supplement to the current international governance mechanism.

In just a few years, the Belt and Road construction has witnessed the launch of a number of projects, including Greek port of the Piraeus, Colombo Port in Sri Lanka, urban light rail lines in Africa, China-Belarus Industrial Park, the freight vehicles traversing China-Pakistan Economic Corridor and China-Europe freight trains. The "sense of gain" has got to people's hearts.

Facts have proved that in a world filled with risks and challenges, peace and common development can be achieved only by concerted efforts, which requires countries of the world to integrate policies, economic elements and development resources.