By Du Mingming (People's Daily Online)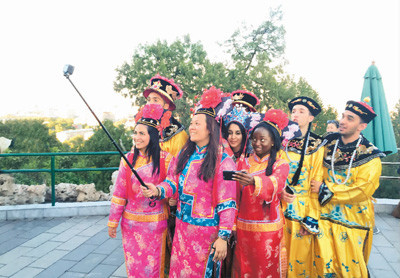 Foreigners in ancient Chinese royal dresses take selfies at Jingshan Park in Beijing. (People's Daily Overseas Editon/Gao Bing)
More and more foreigners find China a charming country full of opportunities. Lots of travelers and international students, who are enchanted by its beautiful scenery, luring delicacies, safe environment, convenient transportation, prosperous economy, and friendly people, would rather stay and work in China than return home.

Statistics from the China National Tourism Administration show that the number of inbound tourists has exceeded outbound tourists in the first half of 2017, reaching 65.1 million, a year-on-year increase of 4.5 percent, and the number of foreigners with permanent resident status is up too, a year-on-year increase of 163 percent in 2016.

Encounter friendly people

Dahai, a Pakistani man studying for a doctor's degree in Beijing, still remembers the first day he arrived in Beijing. At that time, he even had no idea what "nihao" (hello) meant. Having no phone and unable to find the address that was written in English, he felt totally lost. But a friendly Chinese helped him out. "A young Chinese who spoke good English led me to the address. From that moment, I was determined to learn Chinese well," he said. "I gradually fell in love with China and Chinese people."

Eighty Italian workers have unforgettable memories near West Lake. Two years ago, they flew 15 hours from Rome to Hangzhou to complete a construction project. Frank is one of the eighty workers. In his eyes, Chinese workers have clear lines of division between life and work. "We magically communicate with Chinese workers through gestures and facial expressions and have built a good relationship," he said. They often watch games, play basketball, and have barbeques together.

Dina Elhadi is a beautiful Egyptian girl who has just received her doctoral degree from the School of Life Sciences at Tsinghua University. She fell in love with China because of the kindness, charm, and hospitality of the people in Beijing. "There are many elderly people at my university. At first, I could not express myself properly, but they always listened to me carefully and sometimes even joked with me," she said. In her eyes, Chinese people are warmhearted, optimistic, and always positive.

Indulged in traditional Chinese culture

Natural beauty, history, and culture are top attractions for foreign travelers in China. For most people, the latter is more favorable.
Wang Shaocong is from Cuba. His Chinese name was given to him by a teacher at a Confucius Institute in his home country. "I love Chinese culture, especially the unparalleled artistic beauty of calligraphy and water-ink paintings. They always relieve pressure and help me feel calm and relaxed," said Wang. He considers Beijing a paradise for "exhibitions" and has left footprints in many art places, including the National Art Museum of China and the National Museum of China.
"I love reading the Romance of the Three Kingdoms (one of the four iconic classical Chinese novels) very much, it's fascinating," he said. To better experience the country's profound history, Wang has also visited many ancient places in Beijing, such as the Palace Museum, the Summer Palace, and the Drum Tower.

Obsessed with Chinese food

Chinese food is famous for its taste and diversity. Lee Hye Ran, a Korean girl who graduated from Peking University, now has more than 200,000 followers on Chinese social media platform Sina Weibo. She is an active beauty blogger.