By Qiang Wei from People's Daily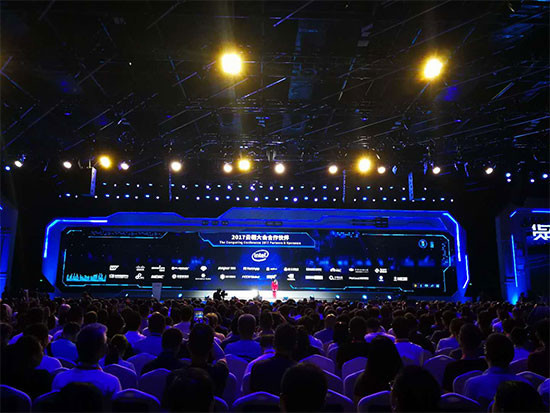 "The Computing Conference 2017" was held in Hangzhou, capital of east China's Zhejiang Province, Oct. 11, 2017. Themed as "Apsara Intelligence", this year's conference ran until Oct. 14. (Photo: People's Daily Online)
The global cloud computing sector in the future will be a game between China and the US, a chief of Chinese internet giant Alibaba said Thursday at a conference.

In the next 6 to 12 months, Alibaba Cloud, the subsidiary of Alibaba Group, will face the same difficulties and challenges its American counterparts have encountered, said Hu Xiaoming, President of Alibaba Cloud, at the "Computing Conference 2017" in Hangzhou, capital of east China's Zhejiang Province.

Cloud computing will be applied to every industry because of increasing dependence on the internet in this digital era, said Hu, adding that it will bring more opportunities for firms engaged in digital transformation.

Alibaba Cloud is now the world's third largest cloud computing company following Amazon Web Services (AWS) and Microsoft Corp.'s Azure.

The US has advantages in the cloud computing market as first comer, but with more driving engines, China will realize digital transformation at a pace faster than the US, Hu added.

Besides Alibaba, other leading tech runners like Baidu, Tencent, Huawei, Ucloud and Lenovo have joined the cloud computing ecosystem as well.

Of those industrial giants, Baidu focuses more on a combination of cloud computing and artificial intelligence (AI), while Lenovo eyes for digital transformation and industrial upgrade by integrating cloud computing and big data.

Hu said that a new research institute named DAMO Academy has been established by Alibaba to deal with the challenges emerging in the industrialization process of the cloud computing.

"We hope the investment could be a long-term process so that the industrial partners can launch closer cooperation," he explained.

The DAMO Academy, formally established on Wednesday, will conduct studies on fundamental science and disruptive technology innovation. DAMO stands for "discovery, adventure, momentum and outlook".

Alibaba also has pledged to invest over 100 billion yuan (about $15.2 billion) over the next three years in advanced technology development.

The"3A" group, covering Alibaba, AWS and Azure, led the global cloud computing sector in 2016 in terms of market share, according to a report released by authoritative research institute Gartner in late September.

China should work out the standards for cloud data as soon as possible, encourage domestic service providers to explore overseas market, and offer high-tech supports to countries along "the Belt and Road" and globalization process of Chinese companies, industrial experts suggested.

Hosted by Alibaba, the Computing Conference is a major worldwide event in the field of cloud computing.

In this year's meeting, about 450 tech firms exhibited their latest innovation-oriented products covering AI, visual intelligence, computing chip, quantum computing, cloud computing, big data, driverless system, smart home and city management.