By Zou Xiang, People's Daily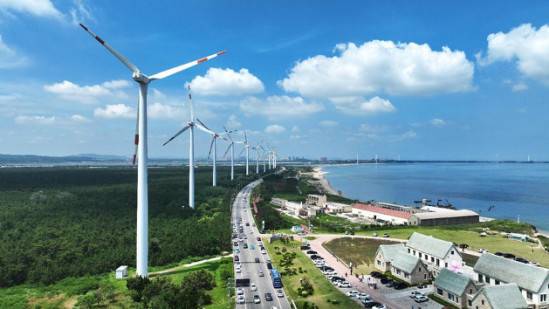 Photo shows a wind farm near a seaside scenic area in Rongcheng, east China's Shandong province. (Photo by Wang Fudong/People's Daily Online)
The world's first offshore wind turbine with power generation capacity of 16 megawatts recently became operational in southeast China's Fujian province. With just one revolution, it generates an incredible 34.2 kWh of electricity.

Today, non-fossil fuel power sources account for over half of China's total installed capacity, exceeding the nation's fossil fuel power generation capacity for the first time.

This mirrors the firm steps taken by China in green and low-carbon development.

Green development is a way to achieve maximum economic and social benefits with minimum resource and environmental costs. It is high-quality and sustainable.

In the first half of this year, China's economic growth was of high quality, an important manifestation of which was the strengthened synergy between green transformation and economic growth.

The proportion of days with good air quality remained at a high level nationwide in the first six months. The percentage of surface water sections with good water quality rose 2.1 percentage points compared to the same period last year.

In terms of energy utilization, energy consumption per unit of GDP fell 0.4 percent year-on-year in the first half. The energy efficiency of steel, primary aluminum, cement clinker and other products per unit were at world advanced levels. The energy consumption per 5G base station dropped more than 20 percent from the period when 5G was just put into commercial use.

Promoting the green and low-carbon economic and social development is key to achieving high-quality development. The greenness of development reveals the quality of growth, marking the significant progress made in China's green transformation.

Green transformation is not only a powerful means of energy conservation, emission reduction, cost reduction and efficiency enhancement, but also endows industries with broader development space.

Green, circular, and low-carbon development represents the direction of today's technological and industrial revolutions, and is the most promising area for development. Fully tapping its potential in this regard, China has fostered many new areas of economic growth.

In the first half of the year, led by the green transformation in the energy sector, China's photovoltaic cell and wind turbine production volumes grew by 54.5 percent and 48.1 percent year-on-year, respectively.

The supply of related green materials increased, with the production of ultra-transparent glass and polysilicon jumping 89.1 percent and 86.4 percent, respectively.

New energy vehicles were massively exported, and the production of related products like lithium-ion batteries and charging piles grew by 46.4 percent and 53.1 percent from a year ago, respectively.

The accelerated green development has provided strong support for the sustained recovery of the national economy.

Across China, examples demonstrate how green, low-carbon development is injecting vital momentum into the country's economic resurgence.

In Suzhou, east China's Anhui province, floating solar power stations in mining subsidence zones are transforming wastewater into new energy bases.

In Ningxia Hui autonomous region, an energy and chemical industry base has unleashed much greater economic potential of coal through continuous technological innovation
From the accelerating formation of green lifestyles and production methods, to the tremendous growth of green commodities and industries, green and low-carbon development is continuously injecting momentum into China's economic recovery.