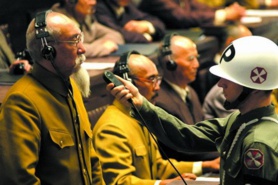 By Zhang He and Liu Ge from People's Daily

Shanghai Jiao Tong University Press inked an agreement last week with Palgrave MacMillan, a global academic publisher, to publish an English version of My Personal Experience at the Tokyo Trial written by China's legendary judge Mei Ru'ao.

The deal was signed during the 2016 Beijing International Book Fair, which was held on August 24-28.

Mei is best remembered for his efforts to protect the dignity and legal interests of Chinese during the trial of 28 Japanese war criminals at a Tokyo court in 1946.

Apart from detailed documentation of the International Military Tribunal for the Far East recorded by Mei, who was the only Chinese judge that had participated in the entire hearing, My Personal Experience at the Tokyo Trial also includes journal and diary entries written after arriving in Tokyo for the trial.

Mei Xiao'ao, Mei Ru'ao's son who oversaw the compiling of materials for the book, said the English edition would further aid in-depth research on the trial.

Xiao'ao quotes his father to illustrate his motivations. "I'm not a revanchist, and I have no desire to write down the bloodshed debts the Japanese imperialists owed us under the name of Japanese people. But forgetting the past bitterness might bring about catastrophe."

Mei Xiao'ao said he hopes to present the events with historical accuracy, especially for the sake of younger generations.

Zhou Huilin, an official from the State Administration of Press, Publication, Radio, Film and Television, said that the systematic research, compilation and publication of documents on the International Military Tribunal for the Far East have both historic and immediate significance.

The English version will provide the world a window to learn more about the trial, Zhou said, adding that it also is of vital importance for academic research.

Readers around the world can now have a comprehensive understanding of history, so that they can better cherish the hard-won peace and post-war order following the victory of World War II, Zhou added.