By Zhong Sheng from People's Daily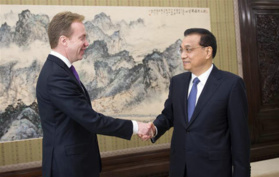 China and Norway issued a statement on the normalization of ties during Norwegian Foreign Minister Borge Brende's visit to Beijing on Monday, which marks that the bilateral ties return to a right track after Norway has made explicit commitment on how to deal with future relations with China.

China-Norway relations deteriorated since the Oslo-based Nobel Committee conferred the 2010 Nobel Peace Prize to Liu Xiaobo, a jailed Chinese dissident. Liu was sentenced to jail due to engagement in activities designed to overthrow the government.

Such disregard of Chinese law and interference of China's internal affairs received a strong protest from Chinese government and people, arousing wide-spread criticism among the international community.

Under such circumstance, Chinese government chose to safeguard its core interest and the fundamental principles of modern international relations.

China and Norway used to share a sound relationship. On January 7, 1950, Norway became the second Western country to acknowledge the People's Republic of China. Thirteen years later, the two countries signed a cultural agreement, which was the first one of its kind between China and a Western country.

Norway recognized China's market economy status in 2007 and initiated negotiations on free trade agreement with China in 2008. In addition, the Arctic Yellow River Station, China's only arctic research station, is located in Ny-Alesund, Spitsbergen Archipelago of Norway.

However, Norway's negligence of China's core interest and major concerns six years ago led to a stall of bilateral cooperation. All those who cherish the China-Norway ties felt the pain due to the damage of political conflict.

Six years later, the Norwegian government chose to meet China halfway with sincerity, making it possible for the two to usher in a new chapter of bilateral ties.

Norway's commitment is the premise of the resumption of China-Norway relations. In the joint declaration on Monday, Norway promises to adhere to the one-China principle, to respect China's sovereignty and territorial integrity, to highly value China's core interest and major concerns and oppose the practices violating them, and to prevent damages of bilateral ties in the future.

China has protected its core interest during the past years. Meanwhile, the resumption of a bilateral relationship is also in line with the national interest of Norway. Aiming high in dealing with foreign affairs, Norway relies heavily on external cooperation for its domestic economic development. It spells a loss for Norway if it misses the opportunity to cooperate with China.

The ups and downs China-Norway ties over the past years have showcased the basic principles of international relations. Mutual respect, equality and care for each other's core interest and major concerns are the basis for any bilateral relationship to be healthy.

With the aim to seek sound relationships with every country, China has always shown generosity when dealing with international affairs. However, China has vowed its determination in safeguarding its bottom line on the issues related with its core interest and major concerns.

As long as Norway keeps its promise to promote cooperation with China and to benefit the two peoples, the two countries will enjoy a sound development of bilateral ties in the future.