By Zhong Sheng from People's Daily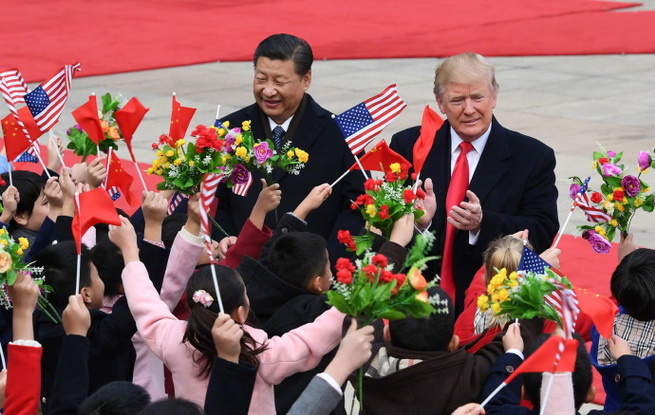 US President Donald Trump began his state visit to China on Wednesday, with the world expecting it to bring positive signals for the development of bilateral relations and hopes that China-US cooperation will contribute to world stability and prosperity.

This visit, responding to an invitation of China's President Xi Jinping, is China's first state visit to follow the 19th Communist Party of China (CPC) National Congress. It comes as the international community watches to see what changes it will bring to China-US relations as we enter an historic juncture of development.

Xi made its clear in his 19th CPC National Congress report that China will stay on the peaceful development path, continue its mutually beneficial opening-up strategy, have a convergence of interests with more countries, and coordinate and cooperate more with major countries.

This can serve as China's guiding design for its relationships with the world, and express the basic developmental philosophy of China-US ties.

The principle is that a China that strives for rejuvenation and continues to cooperate will provide new opportunities for both the US itself and China-US ties, but Xi also said that China will help to build a framework for major country relations through stability and balanced development.

China's rise to power differs from that of other great powers in history in that its cooperation-oriented approach is a reflection of diplomacy with Chinese characteristics. In other words, on its journey, it will never be influenced by the old zero-sum mentality or merely seek a stable "transition of power".

Instead, it will work to build a new model of major-country relationship with the US, one that is conflict-free, non-confrontational, mutually respectful, with win-win cooperation to safeguard world stability and prosperity.

With greater national strength, China has been able to improve its cooperation and coordination with the US so that the two countries can now accomplish a lot and crack a lot of hard nuts, as evidenced by their joint effort to deal with the financial crisis.

China and the US have also maintained close cooperation in hot regional issues and global challenges through bilateral and multilateral methods.

When it comes to the issue of the Democratic People's Republic of Korea (DPRK), China and the US have a common interest in de-nuclearizing the peninsula and maintaining stability there. Both need to continue to look for a proper solution by respecting each other's interests and keeping in close communications.

China is strongly committed to de-nuclearizing the peninsula, to maintaining peace and stability there, and to resolving the issue through dialogue and consultations.

China will also continue its supply-side structural reform, opening wider to the outside world, applying efficient trade and investment policies, and relax market access controls.

These measures will provide a broader space for mutually-beneficial economic and trade cooperation between China and other countries, including the US and both history and the present have shown that economic and trade relations between the two countries are mutually beneficial, and such cooperation has had an immense effect on the two countries and their peoples.

According to a National Committee on US-China Relations and Rhodium Group report, Chinese enterprises now employ more than 140,000 people in the US's Rust Belt across the state of Ohio and China-US economic and trade cooperation has created 2.6 million jobs in the US, either directly or indirectly.

Some US media have reported that many big enterprises were competing to be included in the president's delegation before his visit to China. This no doubt indicates the demand and confidence for further economic and trade cooperation with the Chinese.

The average American, no matter what his or her line of work, from fishermen in Maine, to oil and gas workers from Texas, to farmers from the Midwest, can now be a stakeholder in China-US relations. And the well-being of the people from both countries is affected by the proper management of disputes and closer cooperation.

Xi and Trump have kept close communication for quite some time, interacting through meetings, or through telephone conversations and letters. Trump's visit is an extension of the strategic communications of the two heads of state and can chart the course of long-term development of bilateral ties.

When faced with new development opportunities in China-US relations, along with the international expectations for increased cooperation between the two countries, China and the US need to be far-sighted, and need to accommodate all interests and concerns, properly manage disputes and contradictions, push for joint cooperation, and realize win-win results.