By Tian Hong, People's Daily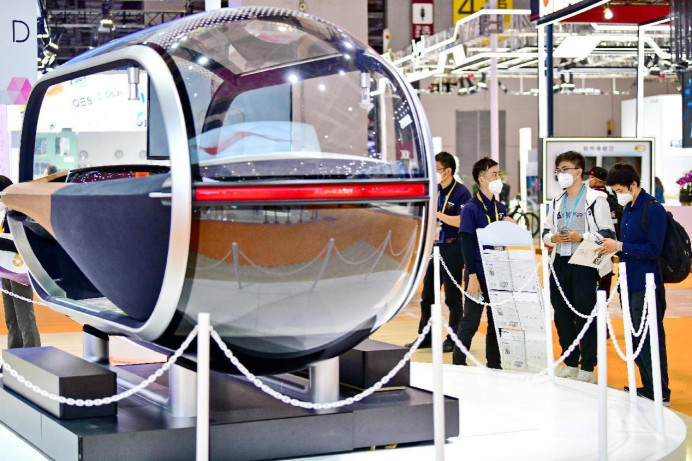 Merchants and exhibitors negotiate with each other at the fifth China International Import Expo, Nov. 8, 2022. (Photo by Zhu Haipeng/People's Daily Online)
The sixth China International Import Expo (CIIE) is scheduled to be held in Shanghai from Nov. 5 to 10 this year. Less than 100 days are left before the event kicks off. Currently, preparations for the sixth CIIE are in smooth progress.

Sun Chenghai, deputy director-general of the CIIE Bureau, noted that the sixth CIIE will still comprise the country exhibition, the business exhibition, the Hongqiao International Economic Forum (Hongqiao Forum), supporting activities, as well as cultural and people-to-people exchange activities.

The sixth CIIE will resume offline Country Exhibition and invite guest countries of honor. Participating countries are expected to display their sci-tech innovation, advantageous industries and investment environment by setting up exhibition booths and through interactive activities.

So far, many countries have confirmed their participation in the sixth CIIE. The World Trade Organization, United Nations Industrial Development Organization, International Trade Centre and other international organizations will also participate in the event.

The exhibition area of the China pavilion will be expanded to a record 2,500 square meters this year from 1,500 square meters previously, which will display the latest achievements of China's high-level opening up and high-quality growth.

An area will also be set to showcase the achievements made in the country's pilot free trade zones during the past decade.

The sixth CIIE will continue to feature six exhibition areas for food and agricultural products, automobile, intelligent industry and information technology, consumer goods, medical equipment and healthcare products, and trade in services respectively.

So far, more than 360,000 square meters of exhibition area has been booked, which meets anticipation.

Enterprises attending the sixth CIIE are of higher importance. The number of Fortune 500 companies and industry-leading enterprises has exceeded that in the previous session.
Fifteen major carmakers, top 10 major medical instrument companies, top 10 industrial electrical enterprises, top three mining giants, top four accounting firms, top three express delivery companies, and top five freight forwarders will gather at the sixth CIIE.

The sixth CIIE will feature more themes of exhibition. On one hand, focusing on high-quality development, it will keep optimizing the exhibitions of energy, low-carbon and environmental protection technology, artificial intelligence, and innovation incubation. On the other hand, it will upgrade its health and elderly care sections and introduce a new "maternal and infant care" category to its exhibition.

Relying on the CIIE exhibitor alliance and professional committees, the CIIE will host an energy development summit, a forum on cooperation in the seed industry, and an international wellness industry conference, to assist innovative development of relevant industries and improve the sense of fulfillment of exhibitors.

The sixth Hongqiao Forum will discuss the core topic of "global openness" while focusing on its functional positioning of "international public goods." It will comprise a main forum and the "Invest in China Year" summit, and release the World Openness Report 2023. The event will also include several sub-forums on open development, open cooperation, open innovation and open sharing.

Ye Jian, deputy head of Shanghai Customs, said that the customs issued a notice on customs clearance for the sixth CIIE and facilitation measures on relevant customs clearance on July 20. Nineteen supportive policies will be continued, including dispatching officials to offer on-site consulting services, extending the validity of ATA Carnet certificates, allowing exhibits to be transferred to special supervision areas after exhibition concludes, and supporting permanent bonded display transactions.

A supportive measure was newly added this year by the customs, which allows animal and plant products and food that have not complete inspection and quarantine procedures from countries or regions that are free from animal and plant epidemics to join the exhibition after obtaining special approvals.

Besides, the customs will continue to set up a special counter for policy consulting, and open CIIE-exclusive counters and channels at relevant ports, so as to facilitate the customs clearance for exhibition staff and exhibits.