By Zhang Zhiwen, People's Daily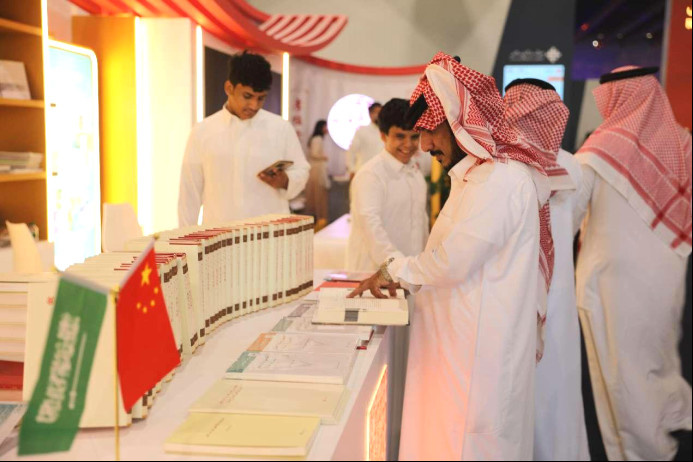 Saudi Arabian readers browse at the exhibition booth for Chinese books at the Riyadh International Book Fair 2023. (Photo by Zhang Zhiwen/People's Daily)
The Riyadh International Book Fair 2023 recently concluded in Riyadh, capital of Saudi Arabia. As one of the largest book exhibitions in the Arab world, the event was attended by over 1,800 publishing houses from some 30 countries and regions, and received over 1 million visits.

During the book fair, Chinese publishing companies gathered to showcase a collection of excellent China-themed books to Arab readers. Various cultural exchange activities between China and Saudi Arabia, as well as China and other Arab countries, were held to inject new vitality into promoting China-Saudi Arabia publishing cooperation and enhancing mutual understanding and exchange between civilizations.

An exhibition booth in the exhibition hall No. 3 with an eye-catching red color caught the attention of many visitors. Neatly arranged on several rows of shelves were China-themed books in Chinese, Arabic, English, and other languages. Among them were notable titles such as "Xi Jinping: The Governance of China" and various books on Chinese history, philosophy, and tourism.

Bayt Al-Hekma Cultural Group, a publishing house mainly devoted to the Arabic translation of Chinese books as well as Chinese language learning books and courses, is the sales agent of "Xi Jinping: The Governance of China" in Arab countries. Ahmed al-Saeed, CEO of the group, told People's Daily that the fourth volume of the book in Arabic is popular among readers in Arab countries.

"Many readers hope to gain a comprehensive, multi-dimensional, and vivid understanding of China's achievements today through this work," he added.
As this year marks the 10th anniversary of the Belt and Road Initiative (BRI), many books on Belt and Road cooperation in Arabic were displayed at the book fair, such as "The Belt and Road Comparative Studies on Regional and National Economic Development" and a picture encyclopedia of the Silk Road history. They served as valuable references for readers to gain a deeper understanding of the achievements of the BRI.

Dr. Hamad A. Altowaijri, assistant professor of Economics at the College of Business Administration, Saudi Arabia's King Saud University, told People's Daily that the deep synergy between the BRI and Saudi Arabia's Vision 2030 formed in recent years has forcefully driven the development of the relations between Saudi Arabia and China.

"It is believed that the publishing cooperation between the two countries will inject more wisdom to the steady and long-term development of Saudi Arabia-China ties," he noted.

"Do you have any books related to ancient Chinese history?" A 14-year-old boy from Saudi Arabia named Rakan, who was attending the book fair, said that he had been studying Chinese for 10 months, and an increasing number of his friends were beginning to learn the language as well.

"I hope to have the chance to delve into Chinese history, which will allow me to gain a deeper understanding of Chinese culture," he added.
As China-Saudi Arabia relations continue to develop, there has been a surge of interest in learning the Chinese language in Saudi Arabia.

Since 2019, the Saudi Arabian government has incorporated the Chinese language into the country's national educational system, and launched a series of measures to stimulate students' enthusiasm for learning the language.

Relevant enterprises have also released Chinese language textbooks and supplementary materials tailored to the specific conditions of Arab countries and catering for learners at different proficiency levels.
At the book fair, there was a constant flow of Saudi Arabian readers seeking to purchase Chinese language textbooks.

During this book exhibition, China and Saudi Arabia signed an implementation plan for projects in the fields of literature, publishing, and translation, which was a high on the agenda of the event. It marked the beginning of a new chapter of publishing exchange and cooperation between the two countries.

Yahya Mahmoud Bin Junaid, Chairman of Saudi Arabia's Center for Research and Intercommunication Knowledge, pointed out that China has a long history and a splendid culture, and in recent years, more and more international readers are eager to understand China as the country constantly increases its global influence.

"Arab countries attach great importance to the Arabic-Chinese translation and publishing industry, aiming to help more Arab readers gain a deeper understanding of China through these efforts," he noted.

In recent years, the copyright trade between China and Arab countries has shown a positive trend of increasing quantity, improving quality, and stable momentum. The annual volume of copyright trade between China and Arab countries has reached 2,000 items for consecutive years, accounting for 10 percent of China's total copyright trade with countries worldwide.

In response to the new trend of digitalization around the world, publishing institutions in China and Arab countries have collaborated to develop Arabic e-book websites, Arabic digital reading platforms, and China-Arab copyright trade platforms, successfully bringing high-quality books from China and Arab countries into the digital realm.

According to Guan Hong, the Deputy General Manager of China Intercontinental Press, the downloads of the digital reading mobile application launched by the company have exceeded 8.8 million, with users from 175 countries and regions. The application currently ranks second among the digital reading platforms of local publishers in the Arab region, Guan added.

Abdullah Kaabi, Chairman of the Emirates Publishers Association, stated that Arab countries and China make an exemplary model for cross-cultural exchange and dialogue.

In recent years, the book copyright trade between China and the Arab countries has flourished, with Chinese writers gaining popularity among Arab readers, he noted, adding that the experiences of China also provide valuable insights for the development of the publishing industry in Arab countries.

It is hoped that the two sides can continue to strengthen cooperation and exchange in the publishing field, and play a greater role in promoting mutual learning and exchange between the two great civilizations, he remarked.