By Yin Xinyu, Xie Yahong from People's Daily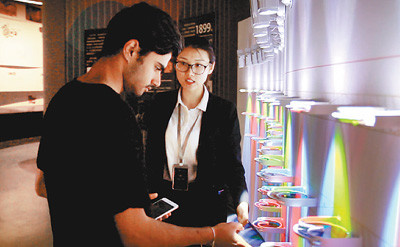 A Pakistani student visits the Qingdao Film Museum, Qingdao, east China's Shandong province. The Shanghai Cooperation Organization (SCO) Film Festival will be held in the city from June 13 to 17.(Photo by Xie Yahong from People's Daily)
Some 54 movies will be screened during the Shanghai Cooperation Organization (SCO) Film Festival, which will be held in Qingdao, east China's Shandong province from June 13 to 17.

The movies, all brought by the SCO member states, will allow spectators to feast their eyes and experience different cultures.

The film festival has been supported by other SCO members, said Yuan Meilin, deputy director of Qingdao Lingshan Bay Film Bureau, which is in charge of the preparation work for the gatherings.

Of the 54 films, 23 will compete for the film awards, Yuan disclosed.

The festival organizer is arranging the film screenings, planning to play the movies for over 260 times on 23 screens of 9 cinemas in Qingdao.
"The SCO Film Festival is the first international film event held in Qingdao after the place was named 'City of Film' by the UNESCO," said Yuan. "The festival will present characteristics and charm of the coastal city."
Films have become a window for people from the SCO countries to know each other. "I've learnt more about China through films," said a Pakistani student Ali who studies in Qingdao and likes Chinese films very much.

Ho See Wing Sam, a film expert committed to promoting Chinese films overseas, was deeply touched by the Russians' acceptance of Chinese culture.

The expert, who was also one of the judges of the Network for the Promotion of Asian Cinema (NETPAC) award at the Moscow International Film Festival, was surprised when seeing the Russian audience's strong interest in a decades-old Chinese film he introduced to the country.

Exchanges and mutual learning can make civilizations richer and more colorful. Same as the Russians' growing interest in Chinese films, a large number of Chinese audiences are now looking forward to the release of a Russian film named "How I Became Russian".

The comedy, produced by China and Russia, is scheduled to be released in the upcoming SCO Film Festival. Before that, its TV drama adaptation has already hit Chinese video platforms and earned a good reputation.

It is learnt that Russia is accelerating its pace of film export in recent years, and China has become its most important destination.

According to a research conducted by Cinema Foundation of Russia, the box office of Russian films in China accounted for 30 percent of its total overseas volume in 2017.

Apart from Russia, India also gives Chinese film market more weight, with Indian films like"Dangle", "Secret Superstar" and "Hindi Medium" having earning both reputation and box office in China in recent years. The Indian film "Toilet" hit Chinese screens on June 8 as well.

"I'm so glad that many Chinese friends adore Indian films," said an Indian dance teacher surnamed Badru who came to Qingdao five years ago. He expressed his expectation toward the film festival, saying he will definitely go for the event if there is a chance.