By Lv Qiang from People's Daily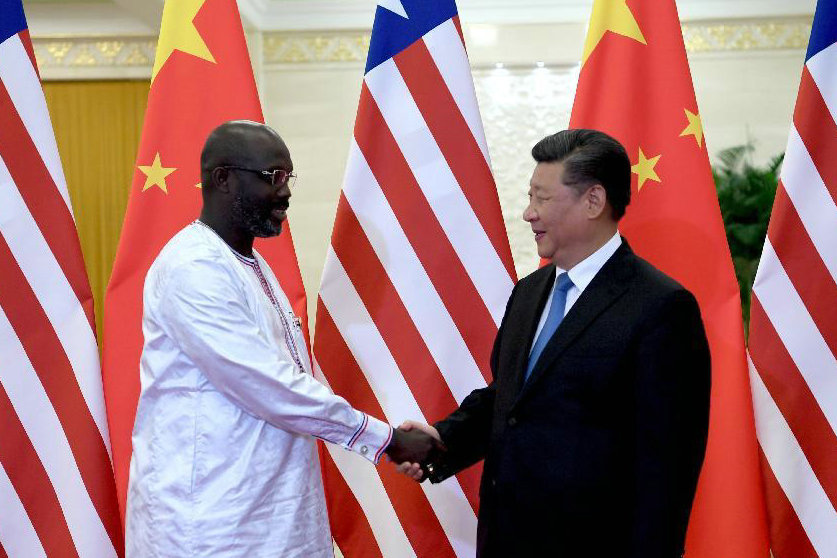 The Forum on China-Africa Cooperation (FOCAC) wasin place for the relationship between the two parties, andSino-African cooperation was a win-win cooperation, said Liberian President George Weah during an interview before kicking off his Chinese visit, during which he would attend the two-day FOCAC Beijing Summit to be opened on September 3.
To strengthen the cooperation was the best choicefor both China and Africa, the pair of good friends and good partners, Weah noted.

Describing China as one of Liberia's biggest partners, the Liberian President said that cooperation between the two sides wouldhelp his country achieve national goals.

"During our dark days of Ebola, China was the first country togive a hand, and we will neverforget that," Weah said. He also extended his thanks to Chinese President Xi Jinping for helping his country fight Ebola, saying China wassincere in helping Liberia promote education and health sectors.

Speaking highly of the community of shared future for China and Africa proposed by Xi, Weah expressed his expectation for Liberia to participate in the Belt and Road construction.

Since the announcement of the 10 major China-Africa cooperation plans, fruitful achievements have been made, such as the ongoing China-aided rehabilitation of Liberia Broadcasting System, the China-aided project of ministerial complex, as well as the renovation and upgrading of the Roberts International Airport.

In addition, China is also offering courses on bamboo weaving and vegetable growing in Liberia.

He also stressed the importance of infrastructure to poverty reduction and development of a country, elaborating that at present, massive roads werebeing built in Liberia, and China had made irreplaceable contribution to his country's infrastructure construction.

China-aided demonstration center of agricultural technologies in Liberia brought both skills and experiences, said the Liberian President, adding that agriculture development was one of the main priorities for his country who had fertile soil and great potential for agricultural growth.

He believes that under the support of China, Liberia will finally be able to grow its own food.

Against the rising protectionism and unilateralism, Liberia would firmly support the multilateral trading system and globalization, Weah pledged, explaining that globalization wasthe only way to gather strength of different countries .

China-Liberia cooperation played a vital role in Liberia's economic and social development, and China's contribution to Africa wasreceiving wider and wider recognition, he stressed, pointing out at the same time that friendship should be based on mutual respect.

Facts proved that China-Africa cooperation couldachieve win-win results, and more and more western people werestarting to realize the vitality that China-Africa cooperation wasbringing to global development, the president told People's Daily.

As a former player of A.C. Milan, and a FIFA World Player of 1995, Weah had visited China for times and gained a fan base there. But this trip will be his first Chinese visit as Liberian President.

When speaking of his previous trips to China, he said that China's development was out of his expectation, calling the country's reform and opening up a good policy.

He told People's Daily that China had made all-round development under the leadership of Xi, and Liberia wouldlearn from China and achieve new development based on its own national conditions.

Hailing the profound friendship China and Liberia had long enjoyed, Weah vowed that Liberia was willing to contribute to further development of bilateral ties, as well as achieve win-win cooperation and common development with China and other countries.

He said that the FOCAC was a "gooddeed" since it could be a place where African and Chinese leaders gathered and made decisions, hoping to participate well in the meeting.

Having a high expectation toward the trip to China, Weah also wishes to visit some remote areas of the country to learn Chinese experiences of poverty reduction.

He also wants to pay a visit to Shaolin Temple that he has visited during his previous trips, saying that China is an interesting place and he is looking forward to the trip.