By Yang Sheng Source: People's Daily and Global Times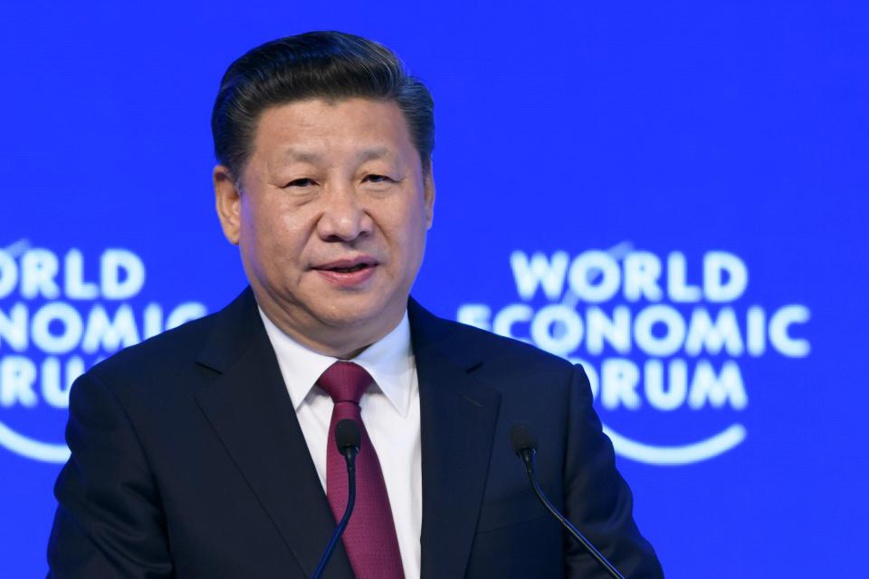 Chinese President Xi Jinping has stressed the importance of adhering to economic globalization and opposing protectionism as he delivered a keynote speech Tuesday at the 47th World Economic Forum (WEF) annual meeting in Davos.

The future of globalization, once described as "the treasure of Alibaba" but now criticized as an opened "Pandora's box," was the key topic of Xi's speech at the forum, held in the Swiss ski resort.

It is the first time that a Chinese president has attended the annual meeting, a gathering of 3,000 government, business and civil society leaders to help shape global, regional and industry agendas.

Xi said many of the problems troubling the world are not caused by globalization, citing the refugee crisis as an example. "There is no point in blaming economic globalization for the world's problems, as that is not the case and will not help with solving the problems," he said.

"Xi is indirectly criticizing the protectionists among the West, because in the past, during the golden era of globalization, the West didn't treat the negative side of the system seriously and pushed it without consideration of uneven development between developed and developing countries," said Wang Yiwei, director of the Center for International Studies at the Renmin University of China.

But now, during difficult times, protectionists in the West are yelling to withdraw from the process of globalization, Wang said. "This shows the protectionists' irresponsibility and selfishness."

Xi pointed out the root causes of the sluggish global economy are lack of robust driving forces for global growth, inadequate global economic governance, and uneven global development.

The Chinese president stressed the need to develop a dynamic, innovation-driven growth model, a model of open and win-win cooperation featuring a well-coordinated and inter-connected approach, and a model of fair and equitable governance in keeping with the trend of the times.

He also called for a balanced, equitable and inclusive development model.

Belt and Road forum



US President-elect Donald Trump's cabinet nominations on foreign trade and his attitude to Sino-US relations show that the possibility of a trade war between China and the US is "extremely high," said Diao Daming, a research fellow at the Institute of American Studies at the Chinese Academy of Social Sciences.

China will keep its door wide open and not close it, Xi said, stressing that this allows other countries to access the Chinese market and China itself to integrate with the world. He voiced hope that other countries will also keep their doors open to Chinese investors and keep the playing field level for China.

There will be no winner in a trade war, as Xi also stressed that the Paris Climate Agreement is a significant achievement and should not be abandoned easily. He said this is the responsibility that we must take for future generations, which won applause from the audience.

Pang Zhongying, director of the Center for the Study of Global Governance at Renmin University, said, "This is a message to Donald Trump, and obviously, Xi won support from Europe and elsewhere."

China's development will continue to offer opportunities to business communities in other countries. In the coming five years, Xi said, China is expected to import $8 trillion of goods, attract $600 billion in foreign investment, and make $750 billion in outbound investment. He added that Chinese tourists will make 700 million overseas visits.

During the speech, Xi announced that China plans to host a One Belt, One Road forum for international cooperation in Beijing this May to brainstorm on interconnected development.

The upcoming forum will explore ways to address regional and global economic problems, generate fresh energy for interconnected development, and make the Belt and Road initiative deliver greater benefits to peoples of the countries involved, Xi said in the speech.

"President Xi's speech demonstrated to other countries China's resolution to globalization and showed that China is willing to shoulder responsibilities in global development. It will boost free trade and economic globalization," said Jing Xiandong, ECO of Ant Financial, a division of Alibaba, who was present at the Davos opening ceremony.

WEF founder and chairman Klaus Schwab also praised President Xi's speech and thanked Xi's commitment to keep supporting economic globalization, saying that Xi's speech was "very very important" at this historic moment.

Schwab also mentioned the "Chinese Dream," a key term that Xi has raised to encourage and unify the Chinese people to realize the great revival of the Chinese nation, saying that the Chinese Dream can also connect to a dream of a "fair, innovative, open and inclusive" future for the whole world.