By Li Ning from People's Daily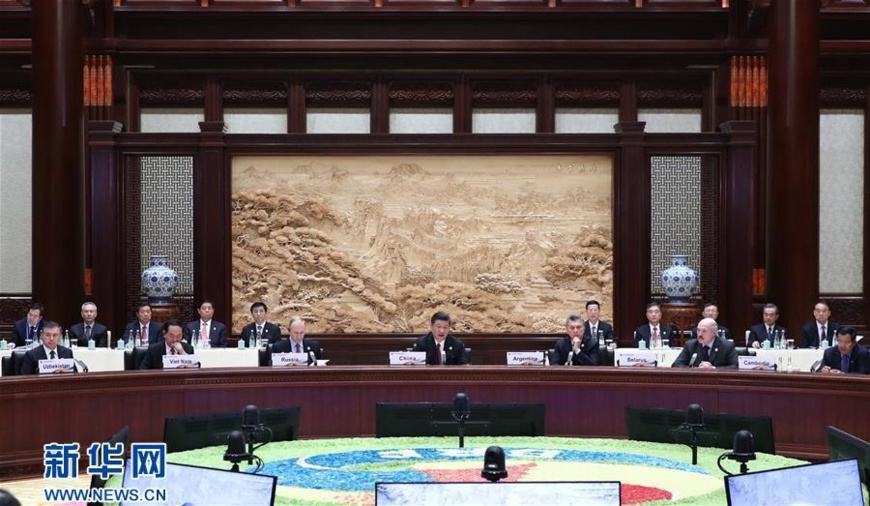 World leaders gathered in Beijing Sunday for the opening of the Belt and Road Forum for International Cooperation, to embrace a Chinese solution to stimulate global growth and promote prosperity for all.

Addressing the opening of the most prestigious international gathering China has ever launched, President Xi Jinping said the Belt and Road Initiative is "a project of the century" that will benefit people across the world.

A total of 29 foreign heads of state and government leaders attended the forum, including Russian President Vladimir Putin.Other delegates include officials, entrepreneurs, financiers and journalists from over 130 countries, and representatives of key international organizations, such as UN Secretary-General Antonio Guterres, World Bank President Jim Yong Kim, and Managing Director of the International Monetary Fund Christine Lagarde.

The two-day forum, which also features a round-table summit of global leaders on Monday, is one of the highest-level assemblies in today's world. At its center is Xi's grand plan to better combine the rapidly expanding Chinese economy with the development of Asia, Europe, Africa and beyond.

Named after the historic Silk Road, the Belt and Road Initiative was proposed by Xi in 2013 to chart out new territories for international cooperation.
"Spanning thousands of miles and years, the ancient silk routes embody the spirit of peace and cooperation, openness and inclusiveness, mutual learning and mutual benefit," Xi told an audience of more than 1,500.

"The Silk Road spirit has become a great heritage of human civilization," he said. By linking countries and regions that account for about 60 percent of the world's population and 30 percent of global GDP, the initiative is a perfect example of China sharing its own wisdom and solutions for global growth and governance.
"The pursuit of this initiative is based on extensive consultation and its benefits will be shared by us all," Xi said. All countries, from either Asia, Europe, Africa or the Americas, can be international cooperation partners of the Belt and Road Initiative, he said. Xi noted that the humankind has reached an age of great progress, great transformation and profound changes, while the world is fraught with challenges.

Global growth requires new drivers, development needs to be more inclusive and balanced, and the gap between the rich and the poor needs to be narrowed. Hotspots in some regions are causing instability and terrorism is rampant. Deficit in peace, development and governance poses a daunting challenge to mankind. "This is the issue that has always been on my mind," he said.

With the Belt and Road Initiative, China wants to turn the legends of the ancient Silk Road into a modern story of inclusive growth and cross-continental cooperation.

"The Belt and Road Initiative is rooted in a shared vision for global development," UN Secretary-General Antonio Guterres said at the forum's opening."Running through Asia, Europe and Africa and extended to the whole world, it is far-reaching in geography and in ambition," he said.

Earlier this week, White House spokesperson Sean Spicer said the United States will continue to work with China under the Belt and Road Initiative. "It's a major trade initiative," he said.

A multi-dimensional infrastructure network is taking shape, one that is underpinned by economic corridors, featuring land-sea-air transportation routes and information expressway, and supported by major railway, port and pipeline projects.

But more importantly, the leaders will also work to identify future cooperation areas, and seek ways to advance policy coordination, facilities connectivity, unimpeded trade, financial integration, and people-to-people exchanges between nations.

At Sunday's forum, Xi proposed that the Belt and Road should be built into a road of peace, prosperity, opening up as well as innovation, and one that connects different civilizations.

"The forum shows the world how far China has come towards its dream of national rejuvenation," said Zheng Yongnian, director of the East Asian Institute at the National University of Singapore."It has once again put China on center stage," he said.