By Pei Guangjiang, Zhang Mengxu, Bai Yang from People's Daily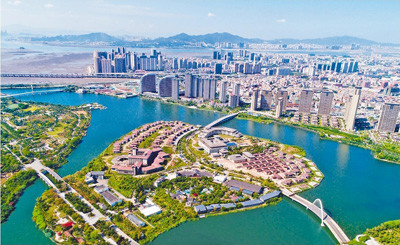 A bird's eye view of Dongdu Port in Xiamen, where the ninth BRICS Summit is expected to be held in early September. (Photo by Wei Peiquan from Xinhua News Agency)
The three-day long ninth BRICS Summit is expected to open on Saturday in Xiamen, during which leaders from the five members would, based on the theme of "deepening the BRICS partnership and opening up a brighter future", further propel their multi-dimensional cooperation as the mechanism has come to a new stage driven by three pillars of political, economic and cultural collaboration.

Today's world is faced with more uncertainties and chaos as some developed nations in the West are "withdrawing from the international system made by them".

Against such context, the BRICS bloc, composed of five emerging markets namely Brazil, Russia, India, China and South Africa, is facing a challenge of whether it can create a new pattern for political and security cooperation and play a constructive role in safeguarding the world peace and stability.

China has proposed a global governance plan within the framework of BRICS cooperation, urging the BRICS members to unswervingly promote the building of an open world economy, multilateralism, global economic governance and common development, which was unanimously agreed by leaders from other BRICS partners.

BRICS countries have gained fruitful achievements from their economic and financial cooperation, which can be evidenced by the establishment of the New Development Bank (NDB) and Contingency Reserve Arrangement, as well as the institutionalization of ministerial meetings in economy, trade, agriculture and customs.

The Strategy for BRICS Economic Partnership, for instance, drew a roadmap for economic cooperation among members. Eight major outcomes were reaped from meetings of trade ministers, among which BRICS Trade and Investment Facilitation Plan is the first document on investment facilitation around the world.

In 2016, the NDB approved seven projects worth $1.5 billion submitted by five member states and it is expected to provide $2.5 billion to $3 billion in total to another 10 to 15 projects this year. The first branch of the NDB was officially started up in Africa on August 17.

The success of BRICS cooperation has fully proved the inclusiveness and cooperation potential among different social systems, development patterns and various cultures and values.

In 2017 when China took over the BRICS presidency, people-to-people and cultural exchanges were chosen as one of the three pillars of BRICS cooperation for the very first time, in addition to political security and economic and financial development.

Over 20 cultural events, ranging from BRICS Games, film festival, youth forums, seminars on governance to forums organized by sister cities, political parties, think tanks and civil society organizations, have tightened the bonds of the public of the five countries.

The BRICS cooperation is now more appealing and attractive after more public have benefited from the mechanism participated by increasingly diversified entities.

Embracing its second decade, the BRICS cooperation is standing at a key transforming stage when it needs to figure out how the members can seek for a louder voice and more institutional rights for the vast emerging markets and developing countries.

China has explored modalities of "BRICS plus" with an aim to turn BRICS cooperation into the most influential platform for South-South cooperation by launching outreach dialogues with more developing countries and emerging markets, building a more wide-ranged partnership and widening the circle of friends.

This year, leaders from non-BRICS countries including Egypt, Mexico, Tajikistan, Guinea and Thailand were unprecedentedly invited to attend the Xiamen Summit. China's proposal has caught world attention and got thumbs up from overseas research institutions and media.

In the "China Year", BRICS bloc will grow into a propeller driving the cooperation between emerging markets and developing countries by pooling more energy, and the "BRICS plus" mode will give a boost to the glorious process.