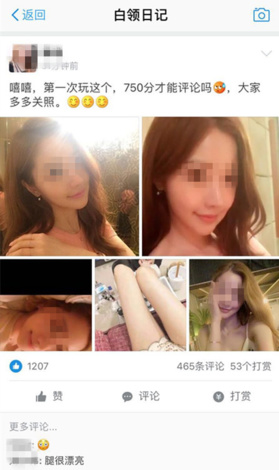 People's Daily
Jack Ma has persistently pursued his vision of a social network under Alibaba, and one of the facets of that vision is the online payment platform Alipay. However, Alipay has lately been attracting far-flung criticism, after its new function was inundated with sexually suggestive photos of female users.

The new service, whose roll-out began on Nov. 24, offers access to different communities tailored to the interests of individual users, including groups for pet owners, fitness lovers, and other more controversial groups like "White Collar Diary" and "Campus Diary." The latter only allows female users to post photos, and only users with high credit on Alipay are able to comment.

By Nov. 27, discussions regarding the new service extended across Chinese social media, where screenshots of photos uploaded to the service quickly went viral. Many of the photos were sexually suggestive, featuring scantily clad women and captions professing that the subject was searching for a sex partner.

By 10 p.m. on Nov. 27, over 6.7 million users had viewed "Campus Diary" and about 5.87 million had checked "White Collar Diary," Beijing Times reported. Some of the higher credit holders left flirty comments in response to photos – ironically, since the 750-point credit cut-off was initially established to facilitate on-topic user communications.

Meanwhile, many have criticized Ma for turning Alipay into an "online brothel" or booty call app. Some also called the new service a "lame" advertisement for Alipay.

The new service is currently in its trial phase. It aims to build online communities based on common interests and similar backgrounds for 450 million users, said an Alipay employee during an interview with Beijing Times. The employee added that Alipay has strengthened its supervision over pornographic posts, and is prepared to ban violators.