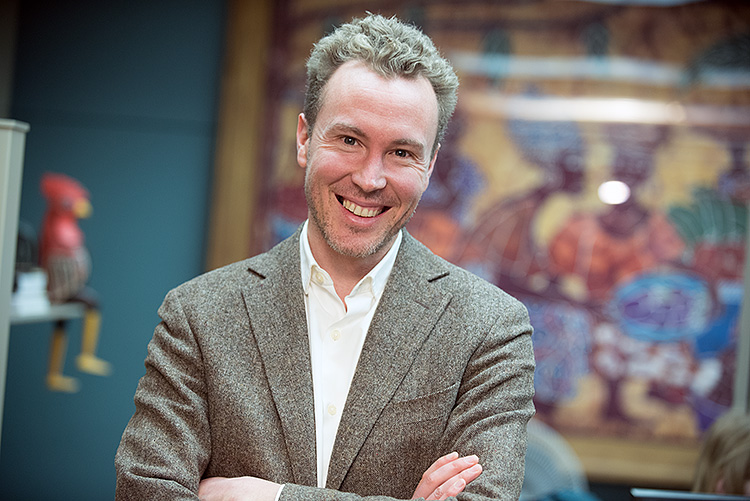 On last night's episode of The Stream on Al Jazeera, author Ben Rawlence criticised the Kenyan government's recently repeated threat to close Dadaab, the word's largest refugee complex.

Rawlence is the author of City of Thorns: Nine Lives in The World's Largest Refugee Camp, praised by The Wall Street Journal as "the most absorbing book in recent memory about life in refugee camps."

The Stream screened a clip of Interior Cabinet Secretary Joseph Nkaissery calling for Dadaab's closure. "There comes a time when we must think primarily about the security of our people," said Nkaissery. "Ladies and gentlemen, that time is now." 

The Kenyan government says the Somali armed group al-Shabaab has taken advantage of the camps' overcrowded, poor conditions. But Rawlence disagreed that Dadaab represents a significant terrorism threat. "It's nonsense, plain and simple. This is politically-driven speculation. There is of course an al-Shabab presence in the camp.  Because it's on the main road between Somalia and Nairobi, people pass through the camp but there is a much bigger problem in Nairobi, in Garissa, in cities in Kenya, than there is in Dadaab, so this attempt to blame all Kenya's extremist problems on refugees is very unfair and not true."

Another guest, Moulid Hujale, a longtime Dadaab resident and journalist, agreed. "There was never one time that people from Dadaab were convicted of terrorist crime."

Instead, Rawlence believes the Kenyan government has ulterior motives in calling for the camp's closure. "Refugees are being used as a bargaining chip here," he said. "The reason they're much more serious this time is because we've had this big deal between the European Union and Turkey, where Turkey gets six billion euros for hosting refugees. Kenya wants some of that action."

Dadaab has been open for 25 years, literally a lifetime for many of its inhabitants.  When Dadaab opened in 1991, it was built as a temporary refuge for people fleeing violence in neighbouring Somalia. "Now it is bigger than Kenya's third largest city, home to nearly half a million people, many of whom have no idea what life is like outside the camps," The Stream's host, Malika Bilal, said in her introduction.

Bilal and co-host Omar Baddar were joined by Rawlence, Hujale, photographer and social worker Khadija Farah, and another longtime Dadaab resident and journalist, Abdullahi Mire.

"The calls of the Kenyan government to close the camp have been so frequent but this time it's louder than ever in the sense that steps are being taken," said Mire. "The Department of Refugee Affairs today is no longer operational in Kenya. The government of Kenya have called for 1bn Kenya shilling and they say they have this budget to close Dadaab."

In addition to terrorism fears, the Kenyan government is also pushing for the closure of Dadaab for economic reasons. But Hujale dismissed this reasoning too, pointing to a 2010 research study commissioned by the Kenyan, Danish and Norwegian governments, which showed that the camp creates 10 000 jobs, held mostly by Kenyans, and brings in around $14m each year.

Hujale also claimed that Kenya's security costs were exaggerated. "The UNHCR and other international donors support the Kenyan government to maintain the security on the camps; the police who patrol the camps are all paid by UNHCR."

"The refugees don't have a choice because they're stuck there but Kenya has a choice," said Rawlence. "It can deport these people against international law which could be a huge crime, pushing 600 000 people over the border. It can allow Dadaab to continue, as it is, without enough money, struggling along, where people have to really force themselves to make a life. Or it could see these refugees as economic actors who could be of benefit to Kenyan society and the economy, who could pay tax and make a major contribution. The United States economy in the 20th century was founded on immigration and on the contribution of people who were fleeing persecution in Europe. This idea that refugees are a burden is completely the wrong way round. I don't understand why both in Europe and Kenya we're not fighting for this workforce to harness it so we can build our societies and we can generate tax."

The show generated a heated discussion on Twitter, which you can follow using the hashtag #ajstream.

Watch and embed Kenya's Dadaab Diaries, last night's episode of The Stream, at https://www.youtube.com/watch?v=WpQE3ufpZCw. 

Also check out Farah's stunning pictures of Dadaab on Instagram: http://instagram.com/farahkhad. 

For more information, visit http://stream.aljazeera.com/story/201605251109-0025214.