Source: People's Daily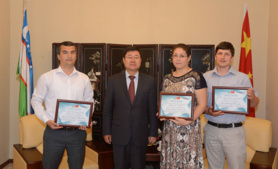 The Central Asian region will set an example in the building of the China-proposed "Belt and Road" initiative and Uzbekistan is an important cooperative partner of China in building the initiative, wrote Chinese Ambassador to Uzbekistan Sun Lijie in a signed article published in the People's Daily on Monday.

Rendering staunch support to the blueprint, Uzbekistan's leaders have joined the effort to build the routes by connecting their national strategic development plans with the initiative, the ambassador wrote in the article.

The article illustrated the important diplomatic value of the Belt and Road initiative, with the first being building up confidence for en-route countries, especially for Eurasian nations.

By jointly building the Belt and Road, lots of those countries in the region have exploited their potential, actively participated in economic globalization, and contributed to balanced development of world economy, the article explained.

What's more, the countries along the route, thanks to the initiative, can make their own development plans in a broader horizon, and combine their development with that of the whole region, the diplomat said.

The large-scale infrastructure projects under the framework of the initiative are in line with the common interests of involved countries, Sun noted, adding that these projects have benefited the participating parties.

In addition to that, by sticking to the concept of openness and inclusiveness, the initiative opens arms to countries and organizations around the globe, which will facilitate the mutual cooperation within the widest scope, he stressed.

Thanks to the frequent interactions and integration brought by the initiative, participant countries now prefer cooperation to conflict, which has improved environment for regional development and contributed to world peace and stability at large.

The ambassador noted that the current China-Uzbekistan cooperation is on fast track, which can be seen by the soaring trade and economic cooperation.

He explained that China has become Uzbekistan's largest investment partner, largest exporter for cotton, biggest supply of telecommunications and soil improvement equipment as well as the second-largest trade partner.

The two countries have pushed forward infrastructure construction represented by the Angren–Pap Railway line, Line C of China-Central Asia Gas Pipeline and renovation of the coal-fired plants at Angren, in an all-round manner.

Cooperation in industrial park construction has been expanded as well, he said, citing the China-invested Pengsheng Industrial Park as an example. The park, which has risen to China's national-level overseas trade and economic cooperation zone, is making practical contributions to Uzbekistan's economy.

He added that China-Uzbekistan cooperation in language, culture, scientific research, archaeology, medical science and tourism sectors is blooming as well.

"It is a pleasure to see that China and Uzbekistan have reached a consensus to engage in building the Belt and Road, safeguarding regional peace and stability and achieving common prosperity," the article concluded.