By Du Yifei, People's Daily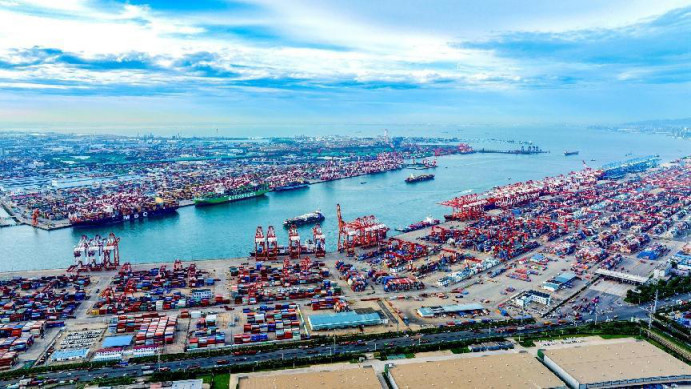 Photo taken on July 26, 2023 shows a busy scene of a container terminal of the Port of Qingdao in east China's Shandong province. Almost every day, there are vessels to and from BRICS countries loading and unloading cargos at the terminal. (Photo by Han Jiajun/People's Daily Online)
The 15th BRICS Summit to be held in Johannesburg is destined to be a grand and dynamic event.

Naledi Pandor, South Africa's minister of international relations and cooperation, recently said that 67 leaders from African countries and the Global South have been invited to attend the BRICS-Africa Outreach and BRICS Plus Dialogue, and about 20 dignitaries from the African Union Commission, the United Nations and regional economic blocs have been invited for a meeting to be held before the summit.

South Africa actively supports the "recruitment of new members". "We have had formal expressions of interest from the leaders of 23 countries in joining BRICS, and many more informal approaches about the possibilities of BRICS membership,"she added.

Over the past 17 years since the BRICS mechanism was established, BRICS countries have upheld the BRICS spirit of openness, inclusiveness and win-win cooperation, constantly expanded areas of cooperation, enriched the connotation of cooperation and achieved fruitful results.

The success of the BRICS cooperation has boosted the confidence of developing countries that hope to accelerate development while maintaining independence, and has won high recognition and trust from these countries.

A large number of emerging market countries and developing countries have shown strong willingness to further strengthen cooperation with BRICS countries.

During the 2017 BRICS summit in China's Xiamen, China for the first time proposed the "BRICS Plus" cooperation model, building an important platform of solidarity and cooperation for emerging market countries and developing countries. It was hailed as an important innovation to expand BRICS countries' global influence.

In 2022, at the 14th BRICS summit, the leaders of the five BRICS countries agreed to explore "BRICS Plus" cooperation at more levels, in more areas and in a wider scope, to promote the membership expansion process. It has received wide attention and active response from multiple parties.

The comprehensive and pragmatic cooperation of the BRICS is what makes the mechanism tremendously appealing. The BRICS cooperation has formed an all-dimensional mechanism led by leaders' meeting and involving meetings of foreign ministers and senior representatives for security issues. It has forged a cooperation architecture with its three main drivers, namely, economic cooperation, political and security cooperation, and people-to-people exchanges.

BRICS countries are an important emerging force in the global economy. Statistics released by UK-based economic research institute Acorn Macro Consulting in March this year showed that BRICS countries accounted for a larger share of the global economy than the G7 in 2022 based on purchasing power parity.

The International Monetary Fund (IMF) predicted that in the next five years, BRICS countries will contribute close to 40 percent of global economic growth.

In recent years, BRICS countries have steadily strengthened pragmatic cooperation in areas including poverty alleviation, food security, COVID-19 fight and vaccination, development financing, climate change and green development, industrialization, digital economy and connectivity, injecting momentum into global economic recovery.

BRICS countries follow true multilateralism and make decisions based on equal footing and consensus-building. In a range of global multilateral mechanisms including the UN, G20, WTO, IMF and World Bank, BRICS countries have steadily enhanced policy communication and coordination, promoting the reform of the current international system in a constructive manner.

It can be said that the influence of BRICS cooperation has gone beyond the five countries and the cooperation mechanism has become a constructive force for boosting world economic growth, improving global governance and promoting democracy in international relations..

It's not surprising that such a cooperation mechanism gains extensive recognition and support from the international community, and there will be more and more like-minded partners willing to join this promising mechanism.

In June this year, an article published on the website of Spanish newspaper Rebelion stated that BRICS countries share a common vision of fairer international trade and multilateral cooperation, which aims at safeguarding shared interests. They will promote a more just world order that brings stability to global production, the article added.

Against the backdrop of rising unilateralism, protectionism and exclusionism, BRICS countries keep away from exclusive "small circles" and are committed to building an inclusive "big family." This has become a model for emerging market and developing countries to carry out South-South cooperation, building an extensive platform for emerging economies to participate in South-South cooperation.

Currently, the collective rise of emerging economies has become a trend of the times, and "BRICS Plus" is an important manifestation of this trend.

"BRICS Plus" cooperation always focuses on development and promotes the implementation of the UN 2030 Agenda for Sustainable Development, so as to advance global development. It can unite developing countries and explore new space for the development of the BRICS mechanism.

Feng Xingke, secretary-general of the World Financial Forum, said the BRICS resolutely upholds globalization and cooperation, and serves as a cooperation mechanism themed with development.
In recent years, the COVID-19 pandemic, Russia-Ukraine conflict and other factors have made development the top priority for developing countries. This is why the BRICS cooperation mechanism is attractive to these countries, Feng said.

It is believed that the expanding "circle of friends" of the BRICS mechanism will further increase the representation and influence of BRICS countries. As more emerging market countries and developing countries deeply integrate into BRICS cooperation, it will demonstrate greater appeal with even more substantial cooperation results, and become a dynamic force making constructive changes to the global governance system.