By Ma Xiaoning, Zhou Hanbo, Xie Yahong and Liu Junguo from People's Daily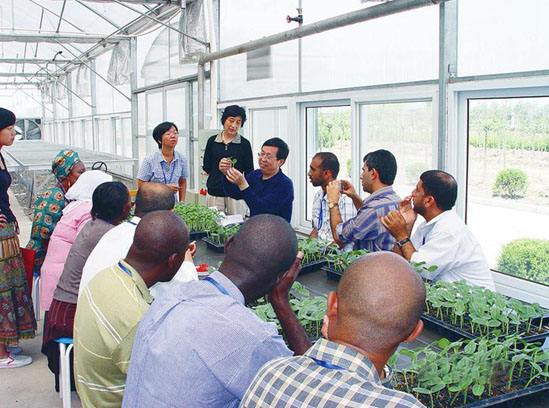 Thanks to its agricultural cooperation with China under the framework of "Belt and Road" initiative, Kazakhstan has found a new source of economic growth. An agricultural innovation park established by both sides has witnessed the development of such cooperation.

Being a major grain producer and exporter, Kazakhstan has been challenged by low agricultural production. Frustrated by the dropping global oil prices, the energy-rich country began to diversify its economic modes in recent years.


The country has chosen the exports of agricultural products as a new engine for economic growth, hoping to boost agricultural productivity via technological and scientific innovations.

Chinese President Xi Jinping pledged to deepen bilateral comprehensive strategic partnership in his first visit to the country in September 2013. The president made a commitment to drive forward China-Kazakhstan cooperation in non-energy sectors, help Central Asian countries develop their economy and improve local people's living standards.

In May 2015, the 200-hectare China-Kazakhstan Modern Agriculture Innovation Park was completed in Kazakhstan's largest city Almaty by the Yangling Agricultural High-tech Industries Demonstration Zone of Northwest China's Shaanxi Province and the Kazakhstan International Integration Fund.

Situated within the Turgen farm which is 70 kilometers east of Almaty, the park is hailed as a mutually beneficial livelihood project to implement the consensus reached by the two heads of state.

In the past two years, the park has reaped rich harvests of wheat, corns, oil crops, fruit, vegetables and seedlings via combination breeding.

"Last July, the park harvested the first batch of winter wheat, with the No.5 winter wheat yielding 319 kilograms per mu (0.07 hectares), 82.28 percent higher than the average 175 kilograms of local wheat," said Yu Jianwei, manager of the dry land agriculture department of the Yangling Modern Agriculture Demonstration Park Development & Construction Co. Ltd.

Quality of the agricultural products is excellent, Yu said, adding that the park is in pursuit of producing high-quality seeds by using advanced technologies imported from China, based on the soil texture and characteristics of Kazakhstan's planting industry.

Alexey, a technician with the park, said that Kazakh technicians have learnt the most advanced agricultural technologies from Chinese experts.

"After two or three years, we will be able to choose the most suitable plants from these test fields for Kazakhstan and Chinese seeds are believed to be grown in all farmlands across Kazakhstan," he said.

Manshuk, a doctorate and general manager of the Turgen Integration Agriculture Co., Ltd., has visited the Yangling Agricultural High-tech Industries Demonstration Zone three times and loved the park very much.

It was her dream to introduce Chinese agricultural park to Turgen, so that agricultural enterprises in Kazakhstan, other Central Asian countries, Russia and other regions can access to advanced Chinese technologies, she said.

Cooperation in agricultural sector between China and Kazakhstan within the framework of the "Belt and Road" initiative has turned her dream into reality, she said, adding that the Chinese technicians introduced new agricultural varieties, new technologies and modern machines which helped Kazakhstan make major breakthroughs toward agricultural modernization

Andrey, a ranch owner managing 400 hectares of apple trees and 200 hectares of grape trees, said he hoped introduce high-quality apple tree seedlings from China and learn modern grape planting skills as well.

Before the park was built, Andrey had to go to Xinjiang in Northwest China to learn the skills. "Now Chinese experts have come to my hometown to offer help to us," he said pleasantly, adding that he could build his fortune in the near future and buy a new car.

Moreover, cultivating agricultural talents for countries along the "Belt and Road" route is also an important mission for the innovation park. Alexey, who is to study in Shaanxi Province for one year in September, said he has made up his mind to learn hard to make contributions to the innovation park as well as the acceleration of Kazakhstan's agricultural modernization.