By Zou Zhipeng from People's Daily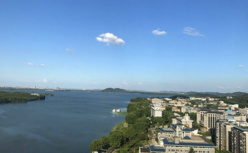 A closer cooperation on blue economy will generate new impetus for economic growth in BRICS members, experts agreed at a panel discussion during the BRICS Business Forum in Xiamen, southeast China's Fujian Province on Monday.
During the discussion, experts exchanged ideas and experience over blue economy. Their discussion came as the blue economy is now embracing a leapfrog growth driven by a spurt of technological progress.
With a long coastline, BRICS members enjoy rich natural resources as well as great economic potential provided by the vast ocean.
"I am optimistic over the BRICS cooperation on offshore oil and gas, port construction, and logistics on the sea as all its members have a long coastline," said Marcelo Veloso, commercial director of Brazil-based Port of Acu.
He suggested the members to expand the space of blue economy by increasing efforts to boost maritime economy and construct quality port facilities, so that they could seek a parallel land and sea development and exploit the maritime resources in a scientific manner.
The BRICS bloc is betting more on "blue ocean" for development, given their abundant resources and strong growth momentum.
"All of the BRICS countries bear an aspiration for intensified cooperation on development of blue economy," George Sebulela, founder and president of African Entrepreneurs Council, told the People's Daily.
The blue economy is also one of key areas that South Africa and China cooperate on, he pointed out, adding that South Africa and Chinese enterprises have inked over 20 cooperation agreements involving blue economy.
He believed that more capital would flow into port infrastructure and other blue industries in the future as the New Development Bank (NDB), a multilateral financial institution set up by BRICS, has launched its Africa Regional Center in South Africa.
The "Belt and Road" initiative put forward by China is now stretching its reaches to the African continent, which endows South Africa more capacity to develop blue economy, Sebulela said.
The blue economy is expected to be a new highlight in BRICS economic cooperation, predicted Shiv Khemka, Vice Chairman of India-headquartered Sun Group Enterprises Pvt Limited.
India and China have begun to explore maritime resources thousands of years ago, while Russia is a maritime power with the third longest coastline in the world, he elaborated, adding that the Brazilian government is also devoted to growing blue economy.
The BRICS countries could make blue economy a new economic engine, he concluded.
Given the increasing pressure carried by the maritime ecology posed by pollution and other challenges, Khemka also called on the business representatives at the meeting to tap the potential of blue economy, so as to ensure an innovation-driven and green development of blue economy.