By Ding Zi and Yu Yichun from the People's Daily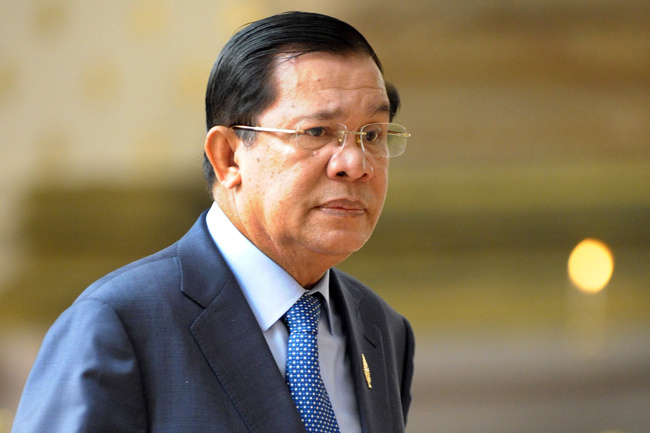 Chinese President Xi Jinping's state visit to Cambodia will further consolidate the two countries' bilateral relations and elevate their comprehensive strategic cooperative partnership to a new high, Cambodian Prime Minister Hun Sen said on the eve of Xi's trip.

In a written interview with Chinese media in Phnom Penh, Hun noted that the traditional friendship between China and Cambodia was carefully forged and nurtured by older generations of Cambodian and Chinese leaders, such as King Norodom Sihanouk, Mao Zedong and Zhou Enlai.

On the basis of the Five Principles of Peaceful Coexistence and in accordance with the concept of a win-win relationship, friendly Sino-Cambodian relations and cooperation have developed remarkably," Hun pointed out.

After both countries established a comprehensive strategic cooperative relationship in 2010, the two set up the Cambodia-China Intergovernmental Coordination Committee in 2014, Hun noted, listing some of the results of bilateral cooperation.

He added that three successful committee meetings have yielded abundant fruit and that both sides are currently preparing for a fourth meeting in Cambodia around late 2016 or early 2017.

Hun said that the two countries' close and frequent high-level exchanges is proof of their sound bilateral ties in recent years. "Both countries will continue to maintain this momentum and cement cooperation under multilateral frameworks such as the UN, ASEAN, the Asia-Europe Meeting and the Lancang-Mekong cooperation," he noted.

In light of multiple global and regional challenges in areas such as economic development, regional security, terrorism and climate change, Hun stated that he believes that Cambodia and China should increase cooperation and address issues of common concern to achieve results that are mutually beneficial, and also contribute to regional and world peace, stability and prosperity.

This year marks the 3rd anniversary of the "Belt and Road" initiative. Over the past three years, China and Cambodia have reaped fruitful outcomes in advancing "Belt and Road" construction and dovetailing their development strategies.

Hun pledged the full support of his country to the initiative, which "aims to reinforce connectivity among states, increase infrastructure construction of en-route countries, deepen integration in trade, finance and other sectors and promote the common prosperity of different cultures and civilizations."

"China not only came up with the initiative, but funded the Silk Road Fund and led the establishment of the Asian Infrastructure Investment Bank, which Cambodia believes will also benefit its social and economic development," Hun said.

He added that during Xi's visit, President Xi and himself are expected to sign a series of cooperation agreements that will further deepen bilateral cooperation on all fronts, while enhancing comprehensive bilateral strategic cooperation and benefit the people of both countries.
Hun pointed out that China is currently entering a harmonious, progressive and prosperous stage of development. It has also been sharing its development experience with the world while making significant contributions to safeguarding the peace and stability of the region and the world.

"Xi's visit this time will bring the traditional friendship between China and Cambodia closer together, and both countries will continue to support each other on issues concerning their respective core interests and major concerns," he said.

Hun reiterated Cambodia's adherence to the one-China policy and opposition to any form of "Taiwan independence".

The country stands ready to strengthen exchanges with China in areas of diplomacy, national defense, law enforcement and security, bolster cooperation in economic and trade programs and expand contact in such areas as agriculture, the marine sector, science, education, culture, health and tourism, the prime minister said.

"I hope our two countries can further enhance the friendship and understanding between younger generations in order to groom successors for the continuation of Sino-Cambodian friendship. In this way, the two countries can be good neighbors, friends, brothers and partners for generations," Hun said.