Source: People's Daily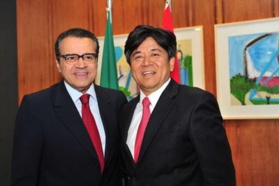 The cooperation between China and Brazil, the biggest developing nation in the eastern and western hemisphere respectively, represents not only a model for collaboration among emerging powers, but also a highlight of BRICS cooperation, said Chinese Ambassador to Brazil Li Jinzhang.

Li said so in a signed article published on the People's Daily on Saturday, one day ahead of the ninth BRICS Summit to be held in Xiamen.

During the Xiamen summit, the leaders would chart a course for BRICS development by further optimizing the new pattern driven by three pillars of political, economic and cultural collaboration, Li said.

A cooperation blueprint on unimpeded trade and investment, currency circulation, financial integration, facilities connectivity, intensified people-to-people bonds and increasing cultural exchanges would be mapped out as well, he added.

The members will also discuss how to enhance dialogues and cooperation with other emerging markets and developing countries based on the "BRICS plus" model, and finally build a South-South cooperation platform with global influence, the diplomat predicted.

Against the rising tide of trade protectionism around the world, the BRICS countries will devote their efforts to building an open world economy, safeguarding multilateral trade system and constructing a new global governance model featuring the principle of extensive consultation, joint contribution and shared benefits, Li wrote in the article.

Brazilian President Michel Temer, at the invitation of Chinese President Xi Jinping, started his state visit to China on Thursday, during which he would attend the 9th BRICS Summit and Dialogue of Emerging Market and Developing Countries from September 3 to 5.

Temer's visit is of great significance in pushing bilateral comprehensive strategic partnership for sustainable development, the ambassador said, adding that China and Brazil are strategic partners sharing ups and downs.

He elaborated that despite of global vicissitudes, the two nations have been supporting each other on agendas involving their core interests and major international affairs based on equal treatment and mutual respect since they established diplomatic ties 43 years ago.

It is a consensus for all walks of life in Brazil to develop its relationship with China as bilateral friendship has taken a deep root among them, the diplomat explained.

Li hailed the booming practical cooperation between the pair of development partners characterized with win-win cooperation in recent years, illustrating that their two-way trade in the first half of this year reached nearly $42 billion, registering a year-on-year increase of 35 percent.

China's cumulative investment stock in Brazil has exceeded $40 billion, making Brazil one of the top destinations of Chinese investors, he illustrated, adding that an investment fund on production capacity cooperation was also launched by both nations recently.

With an initial sum of $20 billion, the fund aims to finance bilateral cooperation in cutting-edge sectors.

China-Brazil cooperation can serve as a model for BRICS cooperation in terms of both scale and levels, the diplomat praised, citing the fruitful collaboration launched by Chinese enterprises in power, energy, agriculture and equipment manufacturing sectors as an example.

Bilateral cultural exchanges are on a rise as well, which can be evidenced by the intensified education, media and think tank cooperation, he wrote in the article, illustrating that Chinese residents like Brazilian dance Samba and Carnival very much.

This year, Brazil also invited China to assume the first honored country for Curitiba International Biennial, one of the most influential art exhibition in Latin America, the ambassador added.

The "China square" the Curitiba city named as well as the statue of ancient Chinese philosopher Confucius it set up also present local Brazilian public another window to understand Chinese culture and arts, Li said at last.