By Mu Xuequan  From:People's Daily app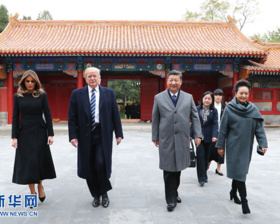 Vice Foreign Minister Zheng Zeguang said Friday that the meeting between Chinese and US presidents in Beijing next week is expected to map out a blueprint for the development of bilateral ties in a new era.
China and the United States are working to ensure U.S. President Donald Trump's state visit a success, Zheng said at a press briefing.
Trump, who will visit China from Nov. 8 to 10, will be the first head of state to visit China since the 19th National Congress of the Communist Party of China.
Apart from formal activities commensurate with a state visit, "informal interactions" will be arranged for the presidents of the two countries, Zheng told a press briefing.
Using this opportunity, Chinese President Xi Jinping and Trump will have strategic communication on significant issues of common concern to build new consensus, enhance mutual understanding and friendship, and promote bilateral relations in all spheres, Zheng said.
The core of Sino-U.S. economic and trade is mutual benefit. Solving the trade imbalance between China and the United States requires expanding U.S. exports to China and increasing two-way investment, rather than restricting imports from China, he said.
Zheng said that a trade war would harm both countries, noting that the two economies are highly complementary and have great potential for cooperation.
China has always worked for the denuclearization of the Korean Peninsula and for peace and stability on the peninsula, said Zheng, adding that the issue should be settled through dialogue and consultation.
China always strictly implements UN security council resolutions. At present, all parties should refrain from action that may escalate tensions and work to bring the issue back to the negotiating table, he said.
China and the United States share broad common interests and shoulder important responsibilities in safeguarding world peace and stability and promoting global development and prosperity, he said.
China is ready to work with the US side to respect each other, pursue mutual benefit, focus on cooperation and properly manage differences, he said.