By Kimeng Hilton Ndukong (People's Daily Online)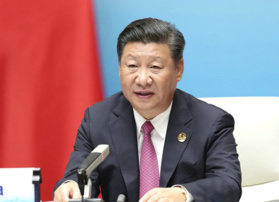 The ninth BRICS summit continued in the south-eastern Chinese city of Xiamen, Fujian province, on September 4, with a plenary meeting of the five leaders of the bloc.
Chinese President Xi Jinping announced the imminent launch by his country of an Economic and Technical Cooperation Plan for BRICS Countries with 500 million yuan for the first term to facilitate policy exchange and practical cooperation in the economic and trade fields, and the disbursement of $4 million to the BRICS-owned New Development Bank's Project Preparation Facility to support the business operation and long-term development of the bank.
He expressed regret at the fact that out of the 197 billion US dollars in outbound investments the BRICS countries made in 2016, only 5.7 percent took place among the five countries. "This means BRICS cooperation still has broad space," said the Chinese president.
According to Xi, BRICS cooperation in the past decade was guided by win-win partnerships. The rapid development of BRICS cooperation is the right approach, and members have supported each other and worked in unison with developing markets and developing countries, he said.
"We need to seek practical results in our economic cooperation… We have yet to fully tap the potential of BRICS cooperation," the Chinese leader cautioned.
Xi spoke of the need to make the international order more just and equitable, for BRICS to speak with one voice to safeguard common interests, and for economic globalization open, inclusive, balanced and beneficial to all.
He pleaded for more people-to-people exchanges like the BRICS games, film and cultural festivals, and sharing traditional medicine practices.
Xi Jinping predicted a greater role for BRICS in international affairs after Xiamen, stressing the need to address the development gap between the North and South and boost global growth.
Kimeng Hilton Ndukong, a contributor to People's Daily Online, is Sub-Editor for World News with Cameroon Tribune bilingual daily newspaper in Cameroon. He is currently a 2017 China-Africa Press Centre, CAPC fellow.