Source: People's Daily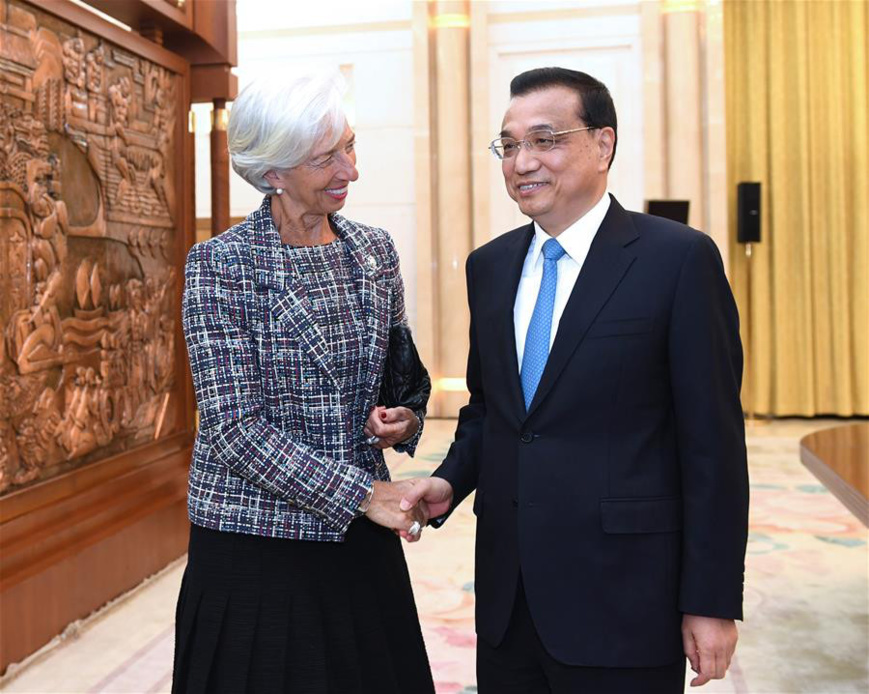 Chinese Premier Li Keqiang meets with Christine Lagarde, managing director of the International Monetary Fund (IMF), who is here for the Belt and Road Forum (BRF) for International Cooperation, at the Great Hall of the People in Beijing, capital of China, May 14, 2017. (Xinhua/Rao Aimin)
Chinese Premier Li Keqiang said Sunday the country is capable of maintaining financial market stability and warding off regional and systemic financial risks.

China will strike a balance between financial stability, gradual deleveraging and stable economic growth, Li said while meeting with Managing Director of the International Monetary Fund (IMF) Christine Lagarde, who is in Beijing to attend the Belt and Road Forum for International Cooperation.

Li said the country will continue to implement a prudent monetary policy and put the prevention of financial risks at a prominent position.

The government will also continue with a market-based, managed floating exchange rate regime to keep basic stability of the yuan at a reasonable and balanced level, he said.

China is willing to enhance policy communication and coordination with the IMF, and promote economic globalization, trade and investment liberalization and facilitation, as well as multilateral cooperation, to keep the global economy on track of stable development, Li said.

Lagarde said China's growth momentum is encouraging. She praised China's strong support for global economic cooperation and multilateral trade system.

The IMF is glad to see that China's financial system remains on a solid foundation with effective and proper prudential regulation, she said.

In a separate meeting with World Bank President Jim Yong Kim on Sunday, Li said China's economy is in the process of transformation and upgrading, which requires traditional industrial capacity to be overhauled and new growth momentum to be fostered as well.

China is ready to strengthen cooperation with the World Bank and conduct joint research on such subjects as nurturing new growth impetus to help accelerate the country's economic upgrading, Li said.

As the world's largest developing country, China is willing to fulfill its duty as a responsible major country and engage more in cooperation on reducing poverty and promoting development, he noted.
China hopes the World Bank can lead the international community to jointly push forward economic globalization and work together for common prosperity, Li told Kim.

Kim said the World Bank is confident in the prospects of China's drive to deepen reforms, boost innovation and create new growth drivers, and is ready to strengthen cooperation with China.

He also spoke highly of China's efforts to reform its health care system, saying they will provide useful experience for other countries.