By Zhao Cheng from People's Daily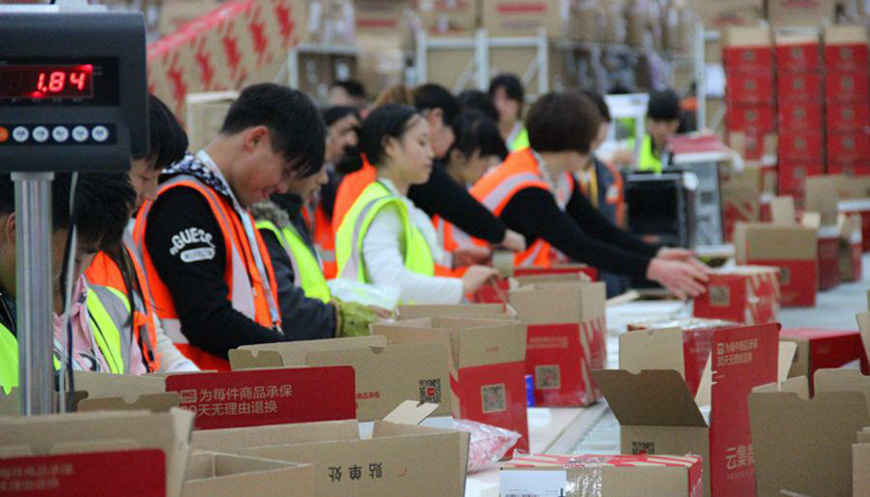 On Nov.11th, workers were busy packing day and night to ensure that customers could get their goods as quick as possible. (Photo from People's Daily Online)
China is estimated to set a new high in the upcoming Singles' Day, the country's biggest online shopping carnival that falls every year on November 11, after it wowed the world with a record -high sales last year, researchers said in a recent report.

The country is expected to handle over 1 billion parcels during the annual online buying spree, estimated the report released by market research corporation Nielsen and Ali Research, the research arm of Chinese e-commerce giant Alibaba.

Data showed that Tmall, Alibaba's business-to-consumer platform, saw sales worth 120.7 billion yuan ($18.3 billion) on that day of last year, refreshing the global retail record. The transactions covered 235 countries and regions.

From 2012 to 2016, China's online shoppers almost doubled from 242 million to 467 million, and the e-commerce sales surged by 34% per year on average from 8.1 trillion yuan ($1.2 trillion) to 26.1 trillion yuan ($4 trillion), statistics showed.

The online retail transactions, during the same period, grew an averaged 40% per year from 1.31 trillion yuan ($198.5 billion) to 5.16 trillion yuan ($781.8 billion), with its contribution to total retail sales of consumer goods rising from 17% to 30%.

A total of 37 million jobs were created by the e-commerce sector in 2016, 22 million more than those in 2012.

As an effort to explore international e-commerce cooperation, China has also set up collaboration mechanisms based on multiple platforms including Asia-Pacific Economic Cooperation, Shanghai Cooperation Organization, BRICS and G20.

The country has also intensified e-commerce cooperation with major Belt and Road countries, as it has inked bilateral documents with six nations including France, New Zealand and Vietnam.

Compared with shopping holidays in Western countries, China's shopping carnival stands out with an innovative business mode, advanced supply chain and logistics, as well as secured and convenient payment method, said Paul Greenberg, executive chairman of the National Online Retailers Association of Australia, adding that these are the unique contribution of the Chinese to global business.