By Zhong Yin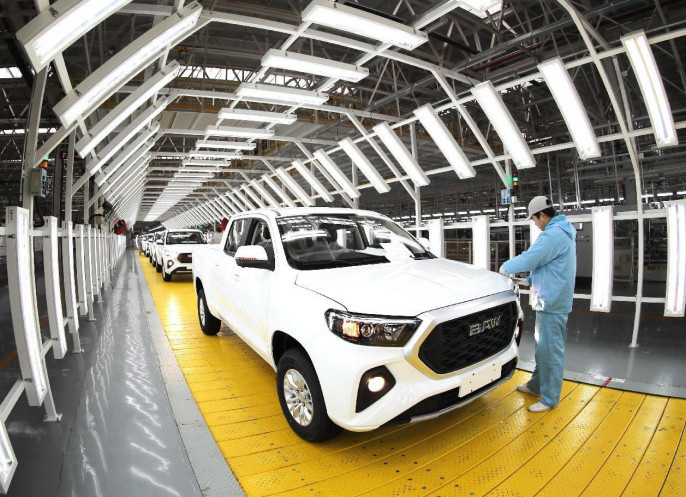 A worker performs pre-delivery inspection for vehicles that have just rolled off the production line in a work shop of a production base owned by Chinese automaker BAIC Motor in Qingdao, east China's Shandong province, Jan. 14, 2023. (Photo by Zhang Jingang/People's Daily Online)
China is seeing accelerated resumption of work and life as it implements its optimized COVID-19 response measures. It gives a leg up to the country's economic recovery and further makes global industrial and supply chains stable and unimpeded.

Since the onset of COVID-19, China has worked to address both targeted epidemic control and economic and social development. It optimized COVID-19 control in light of the evolving situation and achieved remarkable progress. This not only stabilized the fundamentals for economic and social development to the largest extent but also made important contributions to maintaining unimpeded global industrial and supply chains and to promoting global recovery.

China's average annual economic growth stood at 4.5 percent in the past three years, which is obviously higher than the global average. In 2021, the country's foreign trade in goods hit a historical high of $6 trillion. Between January and November 2022, China's foreign trade in goods increased 8.6 percent year on year. In a word, China's progress in the fight against COVID-19 and economic development is self-evident and can withstand the test of history.

The optimized measures will continuously make COVID-19 response more science-based, targeted, and effective, and will also further spur stable economic growth. The Chinese economy enjoys strong resilience, potential, and vitality. The fundamentals sustaining its long-term growth remain unchanged.

Meanwhile, China has rolled out a series of policies that are expected to assist economic recovery. The Ministry of Industry and Information Technology tailored targeted measures for major corporations and small and medium-sized enterprises (SMEs), encouraging the former, especially state-owned ones, to play their role in supporting the industrial chain and driving the development of relevant sectors.

Shanxi province in north China released 29 measures in seven aspects, focusing on coordinating work resumption, smoothing the industrial and supply chains of the manufacturing sector, and speeding up the appropriation of government funds.

Northwest China's Gansu province strictly follows the optimized measures of COVID-19 control and has made a "white list" of enterprises on the industrial and supply chains of major industries.

The above measures have accelerated economic recovery across China, ensuring the security and stability of industrial and supply chains. The momentum for rapid economic rebound is being gathered and released.

China boasts the world's most complete industrial system. It accounts for 30 percent of the global manufacturing output and remains an important manufacturing hub of the world.

Optimizing its COVID-19 response will help China strengthen the resilience and security of its industrial and supply chains, and also make the world economy more stable and certain.

International media have captured the positive signal heralding China's positive economic development, and the world has enhanced expectations for China's economic growth and the positive global spillover effects of such growth.

According to a survey recently launched by China Council for the Promotion of International Trade, which involved over 160 foreign enterprises in China and foreign chambers of commerce, 99.4 percent said they were more confident in China's economic prospects in 2023, and 98.7 percent said they would maintain and expand their investment in China.

Just as a foreign media outlet said, China's optimization of COVID-19 response, while lighting hopes for the country's own economy, will also increase the possibilities for the world economy to make a soft landing.

China's development benefits the world. A German auto spare parts manufacturer said China is the world's largest auto market, which is dynamic and resilient, and it is confident in the prospects of the Chinese market, noting it would continue expanding its investment in the country.

China boasts huge market potential, enjoys obvious advantages in the supply chain and is taking firm steps to expand opening up. It is an indispensable part of economic globalization.

As the country's optimized measures of COVID-19 response continues taking effects, the Chinese economy will embrace a brighter future, and inject stronger momentum and confidence in the global economic recovery.