By Hu Weishen, Qi Xin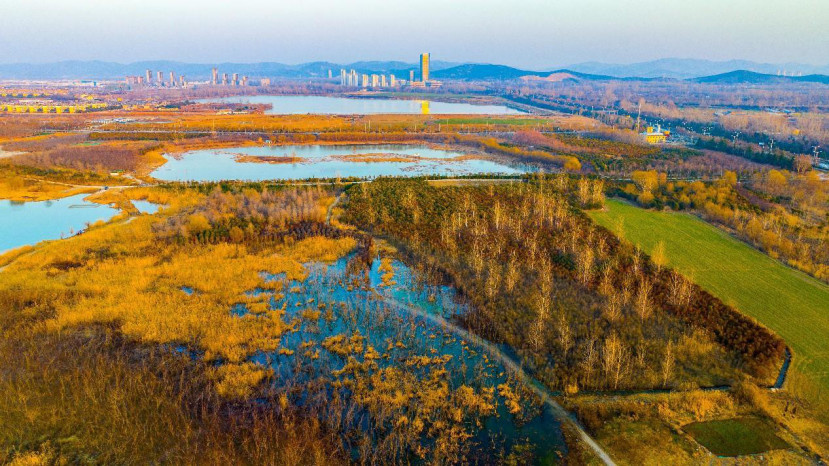 Photo taken on Jan. 30, 2023 shows a wetland park in Huaibei, east China's Anhui province. (Photo by Wang Wen/People's Daily Online)
The shrinking area of wetlands and degrading ecological functions are a challenge faced by the entire world.

Since becoming a party of the Convention on Wetlands of International Importance Especially as Waterfowl Habitat, or the Ramsar Convention in 1992, China has constantly enhanced its efforts in legislation, monitoring, science popularization, and international cooperation to fulfill its obligations.

China's wetland conservation has gone through three stages: problem identification, rescue protection, and comprehensive conservation.

So far, the country has completed over 4,100 projects to advance wetland protection and restoration. It is the only country in the world that has done national wetland resource investigation three times.
China boasts remarkable achievements in wetland conservation. Wetland ecology is constantly improving in the country.

Its wetland area, covering 56.35 million hectares, ranks the first in Asia and fourth in the world.

Especially in the recent decade, China has added or restored more than 800,000 hectares of wetlands. It also has 64 wetlands of international importance and 29 wetlands of national importance. The country is home to 13 international wetland cities, the highest in the world.

The total number of wetland-type nature reserves in China has reached more than 2,200, while 11 million hectares of wetlands are included in the country's national park system with stringent protection management.

Wetland parks well combines ecological conservation, ecological tourism, and environmental education and thus generate ecological, social, and economic benefits. They are an important part of China's wetland conservation system.

Chinese provinces and municipalities are constantly working to apply for national wetland parks and build regional wetland parks, demonstrating China's innovative approach to protecting, restoring, and utilizing wetland.

Currently, there are 29 national wetland parks and 26 provincial wetland parks in Sichuan province, and east China's Anhui province has preliminarily established a wetland conservation network that puts 51.8 percent of its wetlands under protection.

Hangzhou, capital of east China's Zhejiang province, is applying for the wetland city accreditation of the Ramsar Convention, and a provincial-level wetland park is expected to be built near the Qiantang River in the city. It is learned that the coverage of the wetland park will be far beyond the Xixi National Wetland Park in the city, which spans 11.5 square kilometers.

Over the past few years, China has witnessed a prominent increase in the population of wild birds in wetlands. Rare and endangered bird species have started to show up in wetlands across the country and inhabit in large groups there. This indicates improved wetland ecology in the country.

The Yellow River Wetland National Nature Reserve in Zhengzhou, central China's Henan province, sits in the center of the middle channel of China's three major bird migration routes. After years of treatment, the ecology in the nature reserve has constantly improved. There are currently 283 wild bird species in the reserve, up from 169 in 2006.

Surveys on wintering birds recently released by local authorities suggested important progress in China's ecological restoration.

According to a report by south China's Hainan province, the island province discovered 201 black-faced spoonbills this year, the most since the report started in 2003.

Another survey on wintering birds in the Hengshui Lake national nature reserve wetland park in north China's Hebei province said 64,000 birds and 60 species were spotted in the wetland park.

While implementing the Ramsar Convention and protecting wetlands, China has explored a path of ecological conservation for man and nature to live in harmony.

In October 2022, the National Forestry and Grassland Administration and the Ministry of Natural Resources jointly released a plan for wetland protection for the 2022-2030 period.

The plan aims to increase China's wetland protection rate to 55 percent by 2025. According to it, by 2030, a new paradigm of high-quality wetland conservation will be preliminarily established, and the ecological functions and biodiversity in wetlands will be prominently improved.

Besides, the plan will also strive to enhance the comprehensive service capability of the wetland ecology system, strengthen wetlands' carbon fixation performance, and build a better legal framework for wetland protection.

China will keep promoting green development and work for new progress in global wetland conservation.