By Gu Yekai, People's Daily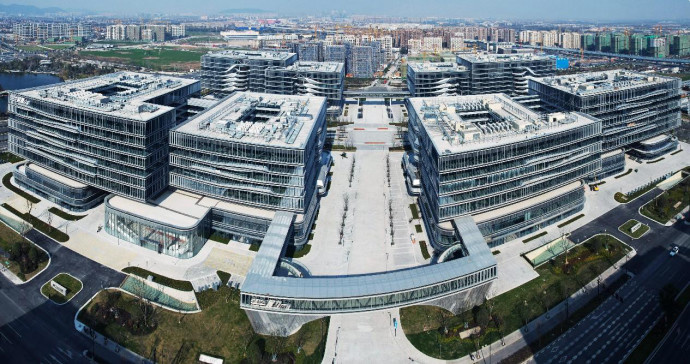 Photo shows the China Town of Computing Power in Hangzhou, east China's Zhejiang province. (Photo by Long Wei/People's Daily Online)
China's computing power ranks second in the world, making it a front runner in the field, said the recently-released Global Computing Power Index Evaluation Report (2022-2023).

According to the report, jointly issued by International Data Corporation, Chinese server manufacturer Inspur and Tsinghua University's Institute for Global Industry, the Chinese server market maintained a positive growth of 6.9 percent and accounted for a quarter of the global market in 2022. Its compound annual growth between 2017 and 2022 stood at 48.8 percent, the report said.

Computing power is a new productive force in the era of digital economy. It plays an increasingly more important role in promoting sci-tech progress, boosting digital transformation of industries and driving economic and social development.

Over recent years, China's computational industry has witnessed constant development and innovation. As of the end of 2022, over 6.5 million standard rack units were in service at the country's data centers, with total computing power of 180 Eflop/s.

The energizer role played by computing power is getting more and more prominent as China intensively promotes the integrated development of computational and other industries. On one hand, computing has seeped into internet, communication, manufacturing, scientific research and other sectors, offering strong support for smart upgrading and digital transformation. On the other hand, the new business forms and models vitalized by the computational segment are driving the growth of emerging industries.

Computational applications have been gradually expanding to telecommunication, manufacturing and education sectors in China, said a 2022 white paper on computational development released by China Academy of Information and Communications Technology.

According to the report, the internet industry, seeing a rising demand for data processing and model training, utilized 50 percent of the country's computational resource, the highest among all industries. The government sector remained the second largest user, which took up 12 percent of the supply of computing power, followed by service, telecommunication, finance, manufacturing, education and transport industries.

The Chongqing Lianglu Guoyuan Port Comprehensive Bonded Zone in southwest China's Chongqing municipality has built new intelligent logistics models with new-gen information technologies, including edge computing.

In the bonded zone, cargos are automatically picked after warehouses receive orders, and then transferred to autopilot trucks by automated guided vehicles, which are given transit signal priority thanks to the application of traffic signal coordination technologies.

"We monitor vehicles and roads with roadside sensing devices and an edge computing platform, and distribute the data of the internet of vehicles to the nodes of edge computing via 5G networks. Then the data are combined and analyzed on a private cloud platform. That's how the cooperative vehicle infrastructure system runs," said Li Xiao, director of 5G intelligent transport solutions of Chinese multinational technology company Lenovo.

The Yellow River Delta National Nature Reserve in east China's Shandong province is an important stop for migratory birds on their journey, as well as a major wintering ground and breeding place for them. It is dubbed the "international airport for birds."

Thanks to an intelligent monitoring system built in the nature reserve in recent years, Shan Kai, a senior engineer who's been working over two decades there, finally got rid of piles of survey sheets that he had to take with him in field surveys.

The intelligent monitoring system records rich information. "It significantly saves our time and improves the efficiency of bird monitoring. It also processes real-time and history data while reducing the waste of image resources," Shan said.

"Computing power was not recognized by wildlife experts in the beginning, as the appearances of many wild animals vary hugely when they grow from cubs into adults, which makes tracking and recognizing difficult," said Wei Biao, executive chairman of Chuangshi Intelligent Technology, which offers monitoring solutions for the Yellow River Delta National Nature Reserve.

He said now the continuously optimized monitoring system can recognize birds more accurately and better meets the demand of the nature reserve.

Experts believe that the intelligent era has arrived and computing exists everywhere, including both terminal ends and cloud platforms.

"Given the exponential growth of data, the foundation for computing will be constantly consolidated, which will raise higher requirements for the development of the computing power," said Chen Zhenkuan, vice president of Lenovo.

What's needed in the digitalization of industries, computing power shall not be merely expanded by size, but be made more intelligent, he told People's Daily, adding that computing power that's widely applied and intelligent will become basic resources like water and electricity and achieve bigger success in the synergetic development of various digital elements.