By Wang Zheng, People's Daily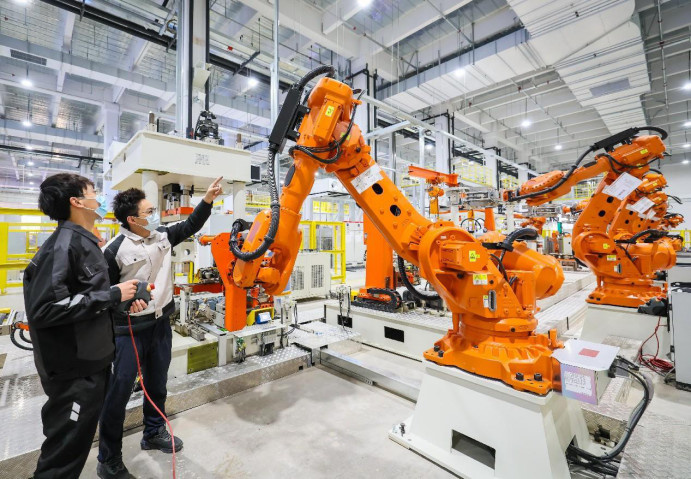 A smart washing machine factory of Chinese home appliance giant Haier is put into use in Songjiang district, Shanghai, Dec. 29, 2022. Photo shows technicians debugging robotic arms. (Photo by Cai Bin/People's Daily Online)
The number of connections for cellular Internet of Things (IoT) services hit 1.84 billion in China as of the end of 2022, an increase of 447 million from a year ago, accounting for 70 percent of the world's total, according to statistics recently released by the Ministry of Industry and Information Technology (MIIT) of China.

Network infrastructure has been strengthened and a collaborative network preliminarily built.

As of the end of the last year, the total number of mobile communication base stations in China reached 10.83 million, a net increase of 870,000.

A collaborative network featuring synergetic development of narrowband IoT, 4G and 5G has been forged preliminarily.

China boasts the world's largest narrowband IoT network which covers regions above township level in all major cities across the country. Its 4G network features universal coverage of urban and rural areas, and all townships have access to the 5G network.

The total number of the terminal connections for mobile network has reached nearly 3.53 billion. In particular, the number of cellular IoT end users has surpassed that of mobile phone users by 161 million, accounting for 52.3 percent of the total.

Cellular IoT services saw enriched application scenarios and an improved industrial chain.

So far, China has built a complete industrial chain in the cellular IoT industry, which covers chips, modules, terminals, software, platforms, and services.

Each of the numbers of narrowband IoT water meters, natural gas meters, smoke detectors, and tracking devices has reached 10 million, and the figure has exceeded 1 million for major appliances, street lamps, parking facilities, agricultural facilities, and other three types of narrowband IoT terminals.

Currently, there are 496 million, 375 million, 250 million, and 192 million cellular IoT terminals applied in such sectors as public services, connected vehicles, intelligent retailing, and smart home, respectively.

In addition, the application is gradually seeping into intelligent manufacturing, agriculture, transportation, and logistics, as well as consumer IoT.

An MIIT official said China will strive to achieve deep coverage of key scenarios by cellular IoT between 2021 and 2025.

The country will build a basic network supporting fixed-mobile integration and broadband-narrowband convergence, and will accelerate the integration of mobile IoT into different industries, so as to better promote its economy, make social services smarter and more efficient, and better facilitate the people, the official noted.