By Zhu Jianhong from People's Daily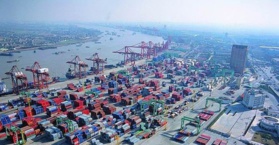 China's economic transformation has entered a "quality improvement" phase following a period of slower growth, a Chinese economist told the People's Daily in a recent interview.

Last year, the economy experienced slower but stable growth, while the producer price index (PPI), which measures the cost of goods at the factory gate, increased, ending a four-year streak of decline, said Li Wei, director with the Development Research Center of the State Council.

The economist further explained that in the same period, businesses reported growth, and urban employment also registered a better-than-expected number.

"All these signs show that China's economy is moving towards more healthy growth in terms of both quality and efficiency, leaving less risks for a sharp fall, " he added.

Dragged down by weak global demand, China's exports slumped 7.7 percent year on year in 2016, the second annual decline in a row. A key troublemaker of the dismal exports is less foreign direct investment in manufacturing.

But China's investment into other markets is surging. Official data shows that non-financial outbound direct investment increased 44.1 percent year on year to $170 billion in 2016, far outweighing the around 15 percent growth of previous years.

"It on one hand means more domestic businesses are now improving their competence and profitability by expanding overseas markets, and on the other hand implies that China's reforms to build an open economy are reaping harvests," Li pointed out.

The Chinese government, in its annual Central Economic Work Conference which sets the national agenda for economic work, has prioritized revitalizing the real economy.

To fulfill the mission, Li suggested that China first boost demand by rebuilding consumer confidence in the "Made in China" brand.

To realize this goal, relevant departments need to tighten supervision on product quality, strengthen protection of consumer rights, and improve the overall institutional environment, he elaborated.

According to Li, "Made in China 2025," a national plan to boost the manufacturing sector, has to be strictly implemented to improve business innovation.

The scholar explained that although Chinese companies have strong manufacturing capability, most of them must become more.competitive.

"We need to foster a host of strategic industrial clusters with core competence as soon as possible, and create more famous brands recognized in the overseas market," the scholar continued.

He said that downward pressure remains in 2017, but China should focus on its reform and development amid challenges from the global economy.

"Facing the arduous task of supply-side structural reform, China will secure stable growth this year as soon as it can prevent systematic risks," Li concluded.