By Wei Zhezhe from People's Daily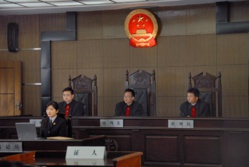 As the last line of safeguarding social fairness and justice, judiciary is an important aspect of human rights protection. In recent years, China has made significant progress in improving human rights protection in the judicial area.

China Judgments Online, an official website for court documents established by the Supreme People's court of China, is an important measure for ensuring the transparency of the country's judicial work.

It is the largest platform for verdict documents in the world as well. On March 9 alone, 23,856 pieces of documents were uploaded, totaling the document number to over 26.98 million, the pageview exceeded 6.3 billion.

On December 2, 2016, China exonerated Nie Shubin, who was wrongfully executed for murder and rape in 1995. The Supreme People's Court ordered Shandong Provincial Higher People's court to re-examine the case on December 12, 2014. Nie's case is a landmark for China's judicial system whether in terms of its complexity, duration or public attention.

Both positive and negative lessons can be drawn from the case. The good part is that the Supreme's People's Court has adopted cross-region examination, direct arraignment and other approaches to clear Nie's name, tackling a tough issue in China's judicial system. What is regrettable is that the damage brought by Nie's death to his family can never be fully recovered.

The correction of each wrongful conviction adds a new footnote for social justice. The white paper, Judicial Reform of Chinese Courts (2013-2016) released by the Supreme People's Court not long ago, stated that from 2013 to 2016, Chinese courts at various levels have acquitted 3,718 defendants in accordance with the law and handled 16,889 state compensations cases, which involved 6.99 trillion yuan ($1.01 trillion).

"Chinese courts, in 2016, corrected the wrongful conviction of 17 people in 11 cases, setting a record high after it had cleared the name of 37 people in 23 major wrongful cases in the previous four years," said Li Shaoping, vice president of the Supreme People's Court.

From 2013 to 2016, courts at various levels have rectified 34 major wrongful cases, including Nie Shubing case, Huugjilt case and the case of Zhang Hui and Zhang Gaoping (nephew and uncle).

Since the 18th National Congress of the Communist Party of China, China's judicial and administrative work has implemented the strategic decision of abolishing the system of re-education through labor. Previous personnel and facilities of the system have been relocated and used for other causes.

With a focus on legal aid for migrant workers, disabled persons and minors, China has conducted legal assistance and stepped up the construction of legal service windows at aid halls and street level. The construction of 94.9 percent and 73.9 percent of the street level windows in central and western China respectively has been completed.

Since 2013, over 5 million legal aid cases have been processed and more than 28 million people have received legal consultation across the country. Ninety-five percent of the local governments have included legal aid service into their budget and over 20 provinces have set up special fund for legal assistance.