From:People's Daily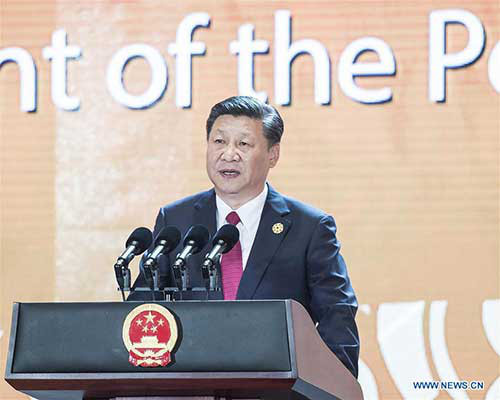 Chinese President Xi Jinping delivered a keynote speech at the APEC CEO Summit in Vietnam's central city of Da Nang, Nov. 10. Journalists who covered the event have lauded the speech, saying that Xi's speech very impressive, and China's initiatives, proposals, and new journey for building a strong and modern socialist country offer new hope for the Asia-Pacific region.
Helen Rei, senior reporter of The National, Papua New Guinea, told People's Daily Online that the most striking point was the Belt and Road Initiative. "My prime minister said in his speech that PNG is at the Belt and Road network in terms of economy and trade. This initiative is good news for countries like Papua New Guinea with connectivity problems," adding that her country is looking forward to the leader of the world's second largest economy bringing the Asia Pacific together.
Fausto Triana Pruna, a reporter for Latin America News Agency, pointed out President Xi's estimation that China will import $24 trillion worth of goods in the next 15 years. "This is a huge figure. But China is a big country, so it's more than just a promise. It's something China will do well."
Lucille Talusan, reporter with CBN Asia in the Philippines said she liked how Xi presented China's "new journey" as one of working together with other countries to create new drivers of common development.
Papua New Guinea sees China as a partner in its efforts to continue building and developing its economy. China exports and imports a lot of our goods and helps build infrastructure and connectivity, so of course China is good for us, and we looking forward to the years ahead, Rei said.
Talusan said, "I liked it when Xi mentioned a new journey for future development. I saw hope in the grand economic program."
Doan Trong, with Little Saigon TV, which is based in the US state of California, called Xi's speech very exciting. He said China's power in the world today is reality.
Gorethy Kenneth, a reporter with Post Courier who covered Xi's speech, said Papua New Guinea has close connections with China. She has installed WeChat, a popular Chinese social media app, to connect her circle of Chinese friends. Shortly after Xi's speech, she got the full text of the speech sent by the Chinese embassy in her home country.
Hailing the close relations between China and Papua New Guinea, Kenneth said she is looking forward to an even more fruitful partnership with China.
Quach Canh Toan, with Vietnamese news site Zing News, said Xi's speech was impressive. Xi summarized China's great achievements in the past five years, elaborated on the Belt and Road Initiative, and provided the blueprint for building a great modern socialist country that was formulated at the 19th CPC National Congress last month, and reaffirmed China's commitment to reform and opening up. All of which are really impressive, Toan commented.