By Tian Hong, People's Daily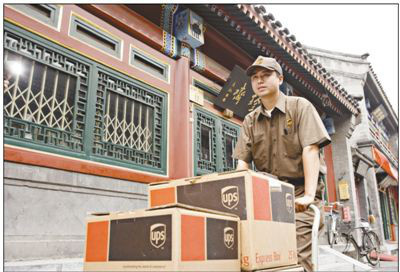 UPS employees deliver packages in Beijing. Photo from UPS
The past 40 years of China's reform and opening up brought substantial opportunities for transnational enterprises, said Harld Peters, president of UPS China during an interview with People's Daily.

The Atlanta-based UPS, with a history of over 100 years, is one of the largest package delivery companies in the world.

Peters recalled that when the company entered China three decades ago, the Pudong District of Shanghai was merely a farmland. However, today, as an international transfer center of the UPS, Pudong is seeing an economic aggregate 100 times of that 30 years ago.

Peters told People's Daily that logistics was a new engine driving economic development, and the business of UPS in the past 30 years always followed the economic development of China.

According to him, at present, UPS has nearly 6,000 employees and 228 business facilities in China, and has established a logistics network covering air, land and marine transportation. 208 flights of the company were flying between China and the rest of the world each week, he added.

The Belt and Road Initiative and China's policy to expand openness strengthened UPS' conviction to develop in China. Ross McCullough, president of UPS Asia Pacific Region said that China's commitment would further promote the sustainable economic globalization, and the expansion of investment in China was an active response to the country's commitment.

In March 2017, the full container load (FCL) and less than container load (LCL) services of the UPS from China to Europe, which originally covered Zhengzhou, Chengdu, Lodz and Hamburg, expanded its coverage to 6 more regions, including Changsha, Chongqing, Suzhou, Wuhan, Duisburg and Warsaw.

"The expansion of the multimodal transport services between China and Europe offers more choices to the customers in the world's largest trade route," said Gu Zhenzhong, vice-president of China Freight Forwarding at UPS China.

This October, the UPS further expanded investment in China to enlarge its logistic network. It improved its services in 8 Chinese cities including Zhongshan, Zhuhai and Jiangmen, to better support local manufacturing and export enterprises. Peters said the company had faith that the Chinese market would have much opportunity for long-term growth and UPS would continue investing in the country.

The rapid development of China's logistics industry surprises Peters. In the first 11 months of 2017, the total value of the logistics industry reached 229.9 trillion yuan, growing 6.7 percent year on year. The number is expected to hit 280 trillion this year. Currently, there are 123 million parcels delivered in China every day, and there will be 200 million by 2019.

Peters told People's Daily that China was a market that worshiped entrepreneurship where small and medium sized enterprises could grow into transnational corporations in only 10 to 15 years, and it would normally take 50 to 100 years in other countries.

China's attitude to actively embrace new technologies has also impressed the head of the UPS China. He noted that China was in a leading position regarding the application of new logistic technologies. Last year, the UPS China reached an agreement with China's logistics company SF to jointly develop new technologies and models.

At present, the UPS was making great efforts to apply drones and artificial intelligence in the logistics sector, Peters introduced.

Peters was born in the Netherlands, and China is the fourth country where he has worked. He told People's Daily that the population of Shanghai surpassed that of the Netherland, but the city was still well managed and safe thanks to the excellent municipal planning.

He said the experience of ordering a dinner 50 minutes before coming off work every day and seeing the food at his arrival was beyond imagination in Europe. He liked such convenient courier service, Peters added.

What also made him excited was the ongoing structural reform in China, such as the one-stop service recently adopted by the customs. Many measures to improve business environment for foreign enterprises had also been taken by the Shanghai government, which would much benefit the logistics and foreign companies.

Peters found that Chinese governments at various levels were good at learning and also willing to assist enterprises to improve business environment. He said the life and work in China were getting more convenient, believing that China's business environment would be more favorable to long-term investment as the country further improved its infrastructure, policies and administrative efficiency.