By Huang Qingchang, Qi Yukun, People's Daily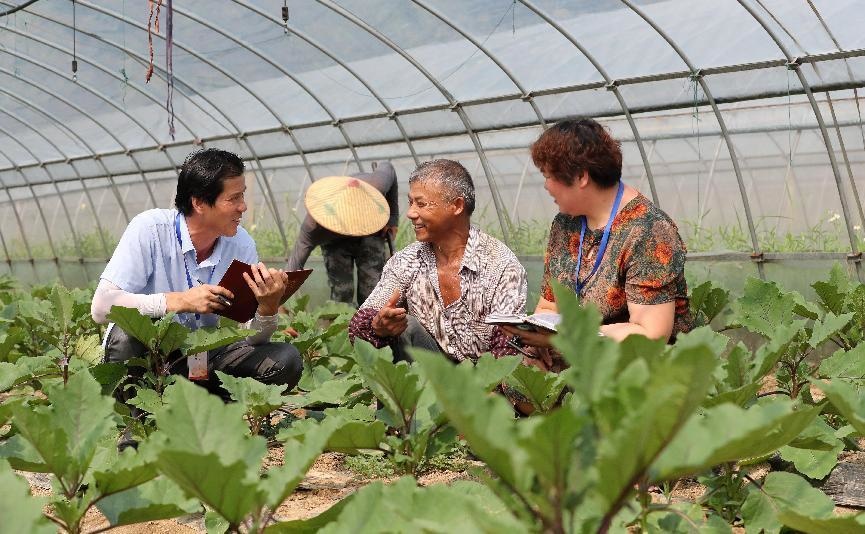 Official integrity inspectors with a villagers' group of Sanqiao village, Deqing county, east China's Zhejiang province, solicit opinions and suggestions from villagers, Sept. 2, 2021. (Photo by Wang Shucheng/People's Daily Online)
China's nationwide quinquennial elections of new deputies to people's congresses in county and township-level regions, during which over one billion eligible voters, whether young or old, take part in the concrete and pragmatic practice of democracy near their homes by exercising the right to vote, is a vivid reflection of the fact that the Chinese people are really the masters of the country.

In Gulou district, Nanjing city, east China's Jiangsu province, students who just turned 18 and thus became eligible to vote participated in local people's congress elections for the very first time; and in Xihu district, Hangzhou, east China's Zhejiang province, a centenarian named Ni Zhujun came to a polling station and casted a ballot she filled out by herself.

Democracy is a common value of humanity and an ideal that has always been cherished by the Communist Party of China (CPC) and the Chinese people.

By vigorously developing whole-process people's democracy, advancing coordinated, extensive and comprehensive development of the systems and institutions through which the people run the country, establishing diverse, unimpeded and well-organized democratic channels, diversifying forms of democracy, China expands the people's orderly political participation at all levels and in various fields and ensures that its institutions and state governance in all sectors give full expression to the will of the people, protect their rights and interests, and spark their creativity.

In practice, the principle of the people being masters of the country is manifested in the Party's governance policies and measures, in all aspects of the work of Party and state organs at all levels, and in the efforts to meet the people's expectation for a better life.

China has established grassroots-level legislative information offices to collect public opinion on draft laws and further developed and promoted the "Fengqiao Experience", a social governance practice explored first in the 1960s by Fengqiao township, Zhuji city, Zhejiang, turning it into a bridge of communication between officials and the people in the new era.

Deputies to people's congresses in China always learn about people's needs and seek their advice, and members of the Chinese People's Political Consultative Conference (CPPCC) committees at various levels often take part in consultations at grassroots levels to solve the most pressing difficulties and problems that are of great concern to the people.

The country's government service hotline "12345" makes it easier for the voices of the people to be heard, and public complaint handling system makes sure that people's demands can receive prompt responses.

The essence of the people's democracy is that the people get to discuss their own affairs. Democratic channels at various levels, including the CPPCC biweekly consultation sessions, democratic meetings held by the CPC, employees congresses in enterprises, and villagers' councils for the discussion of affairs in villages, ensure the extensive and orderly political participation of the people.

From bean voting, a method using beans as ballots in democratic elections in some rural areas before the founding of the People's Republic of China, to today's electronic voting, and from people going to government departments in person to deliver their demands to data-based online government services, China's continuous innovations in the forms of democracy allow the people to express their requirements without hindrance and exercise their democratic rights more conveniently.

In China, people's democratic rights are not only essential for their political participation, but also relate to economy, culture, society, ecology and other fields.

China has built a moderately prosperous society in all respects, eliminated the historical problem of absolute poverty, established the world's largest social security system, and officially implemented the Civil Code, which is hailed as a declaration of the protection of civil rights.

People can truly feel that China's democracy is not a decorative ornament, but an instrument for addressing the issues that concern the people.

As China's democracy enters a new stage of development, the country's dynamic and pragmatic practices of democracy show the world that China's whole-process people's democracy, which is applied through a combination of elections, consultations, decision-making, management and oversight, is a model of socialist democracy that covers all aspects of the democratic process and all sectors of society. It is a true democracy that works.

The Chinese people know better than anyone else whether China's model of democracy works. Today, the Chinese people have greater confidence in China's democracy, and can now look forward to a bright future.