By Xing Xue from People's Daily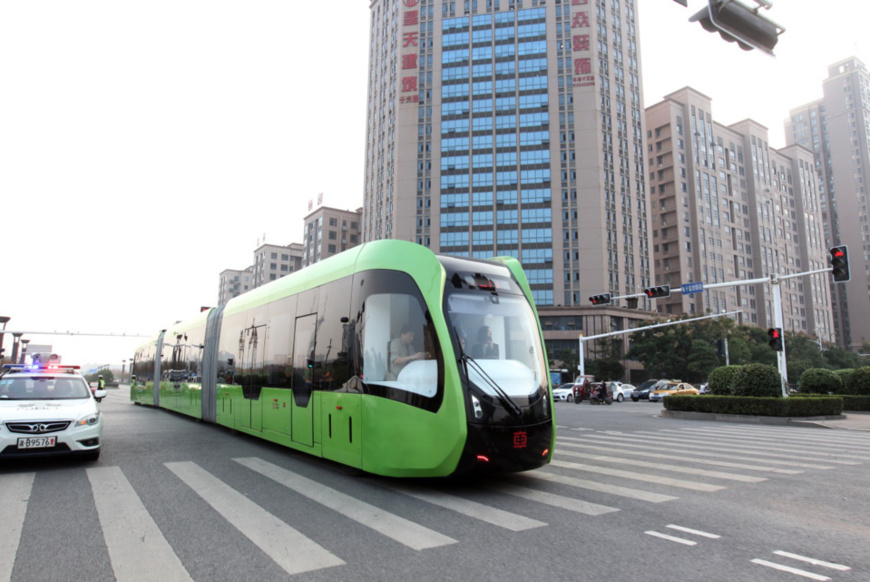 The world's first railless train undergoes test operations on October 23. (Photo by People's Daily Online)
The world's first railless train for urban passenger transport, the Autonomous Rail Rapid Transit (ART), started a test run on Monday in Zhuzhou, Central China's Hunan Province.

The basic construction of the Phase-1 project of a demonstration line has been completed, marking the operation of the world's first intelligent rail system that runs on a virtual track.

With a length of 32 meters, the ART train runs at a maximum speed of 70 kilometers per hour. It can travel 25 kilometers after 10 minutes' charge.

Operating in a flexible manner, the ART can adjust the number of carriages in accordance with passenger traffic. It can hold 300 passengers in a three-carriage unit and 500 in a five-carriage unit.

Combining the advantages of modern trams and buses, the ART train replaces steel wheels with rubber tires. Thanks to the self-developed virtual rail technology of CRRC Zhuzhou Institute, the ART trainis able to run on roads with no visible track.

Equipped with sensors, the ART vehicles can adjust traction, brake and steer automatically so as to keep carriages running along the planned routes.

Being an innovative urban transport system, the ART is also equipped with cutting-edge technologies including autopilot, permanent magnet traction control and a super-capacitor.

The ART system can be put into operation after minor reconstruction of the roads, and it only takes a year for an ART route to begin operation from the planning stage.

The cost of such system is only one-fifth that of a modern tram system, which means it will save at least 1 billion yuan ($151 million) on every 10-kilometer route.

The ART system was unveiled by CRRC Zhuzhou Institute this June with the aim of easing pressure on public transport in smaller cities, reducing infrastructure and operating costs as well as improving route arrangements. The first three ART trams will go into regular service starting next year.