By Xie Weiqun, Hao Hong from People's Daily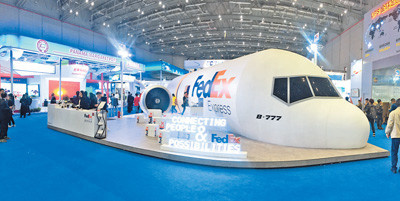 Photo taken is the exhibition booth of US logistic giant FedEx at the ongoing first China International Import Expo (CIIE). The company recently launched a package of logistics solutions in China, including one-stop customs clearance services for cross-border retailers. (Photo by Huang Chao from People's Daily)
"Economies make progress through exchange and inter-connectivity and fall behind because of seclusion and closedness," Chinese President Xi Jinping stressed when illustrating the importance of international cooperation for shared development in his keynote speech at the opening ceremony of the first China International Import Expo (CIIE) in Shanghai on Monday.

The law he underlined has been testified by the business stories of various companies from both China and overseas.

Medtronic, a world-leading medical products manufacturer whose operational headquarters is in the US, has introduced over 500 innovation products to China since 2001.

"We will manufacture the advanced medical equipment urgently needed by China locally, increase the input into research and development teams in China, and also incubate more indigenous innovation," said Alex Gu, Senior Vice President of Medtronic and President of its Greater China Region.

Bullish on the consumption upgrading in China whose middle-income earners are expected to reach 400 million, companies around the world hit the expo with impressive and quality products.

China's Alibaba Group is the first e-commerce platform that answers the call of the expo. Over 200 overseas brands and firms registered for exhibitions at the expo through Tmall, Hema Fresh and the group's other cross-border online platforms, and the 55 ones finally selected occupied an exhibition area of 3,711 square meters.

The figures also made Alibaba the biggest e-commerce partner of CIIE among its procurement alliance to help introduce imported brands, in terms of number of invited brands as well as their contract rate and booth area.

From the perspective of supply side, the expo, during which international new technologies, products and services are displayed, will accelerate domestic firms' steps to transform and upgrade by generating catfish effect, which refers to the motivating effects of strong competition on weaker individuals, noted Sheng Chaoxun, a researcher with the Chinese Academy of Macroeconomic Research.

On the other hand, it will create spillover effect to deepen the cooperation between domestic companies and their global partners, he added.

China's consumption upgrading not only offers opportunities for overseas corporations, but facilitates technology upgrade and product innovation of Chinese mainland companies and makes the latter more competitive in international trade, said Executive Vice President of HSBC China Frank Fang, who has a strong interest in the high-tech products shown at the expo.

The HSBC, after compiling data of 34 markets, listed Chinese mainland in the second place in terms of using big data to optimize business and boost trade growth.

Ninety percent of polled companies in Chinese mainland market did so, a rating much higher than developed markets like the US, Britain and Germany, according to the report.

"People with vision in the world would agree that economic globalization, as an irreversible trend of history, has greatly boosted global growth." Xi's words at the speech are also agreed by many entrepreneurs taking part in the expo.

Jay Nibbe, EY Global Vice Chair, said that China is building a global image that is increasingly bold and has grown into a front runner in free and open economy.

Delighted by Xi's pledge that China will not stop its effort to pursue higher-quality opening-up, Nibbe said that though the current global trade environment is obstructed by certain barriers, economic globalization remains an overarching trend.

China has demonstrated the importance of international trade with concrete actions, and the ongoing expo represents an evident symbol for China to speed up opening up, he added.

Daniel Zhang Yong, Alibaba's chief executive, vowed on Tuesday that the company will help bring $200 billion worth of products from more than 120 countries into China over the next five years to help meet the rising demand of Chinese consumers for high-quality international goods.

In his speech at the Global Import Leadership Summit hosed by Alibaba on the sidelines of the expo, Zhang added that for the fiscal year ended March 31, 2018, millions of enterprises and more than 600 million consumers contributed $760 billion to Alibaba's gross merchandise volume transactions.

A bigger ambition of the e-commerce giant is to bring goods from the rest of the world to China via digital supply chain and take Chinese consumers to the world for travelling, entertaining and shopping, according to the executive.

On the same day, the Export-Import Bank of China (China Exim Bank) and African Export-Import Bank (Afreximbank) hosted a text interchange ceremony for their joint initiative, agreeing to take the expo as a chance to expand imports and boost trade.

"We will introduce African goods to China by taking the Afreximbank as a bridge, and also deliver China's exported products overseas as purchaser, so as to make import and export services a better driver of opening up in the new era," said Li Li, director of the Shanghai branch of China Exim Bank, stressing the importance of open and connected world.