By Fei Yang, Wang Jintao, Zhang Tengyang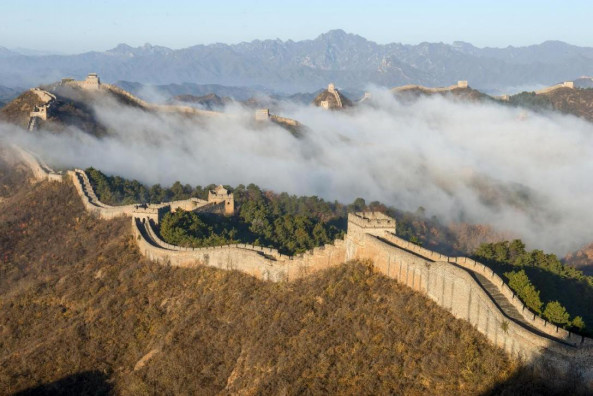 Photo shows a section of the Great Wall in Luanping county, Chengde, north China's Hebei province. (Photo by Zhou Wanping/People's Daily Online)
In a chilly wind, a young woman skillfully set up a portable meteorological device on a tripod and recorded the wind direction, temperature, humidity and other data, despite her windswept hair.

"These data offer important support for preserving the Great Wall," said the millennial girl Lu Tingting, who grew up in Jiayuguan, a city in northwest China's Gansu province. It's home to Jiayu Pass, the western start of the Ming Dynasty (1368-1644) Great Wall.

After she graduated with a master's degree, she returned to her hometown and worked for the relics protection department of the Great Wall conservation institute under the Jiayuguan (Great Wall) Silk Road Culture Research Institute.

The Great Wall is so far the largest cultural heritage and one with the widest geographical span in China. However, some parts of it are dilapidated today due to natural erosion, human activities, environmental changes and other factors.

Conservation thus is urgent for the aging Great Wall. Over recent years, as China accelerates the building of the Great Wall national cultural parks, more efforts have been made in the protection and research of the cultural heritage.

Many young generations, including Lu, are engaged in the protection of the Great Wall. With expertise and passion, they are contributing their strength to revitalize the ancient structure in the new era.

Lu has been working to protect the wild Great Wall for more than three years. Every month, she went on more than 400 inspection tours to some 30 sites of immovable cultural relics scattered in the Gobi desert, mountains, forests and other areas where people are rarely seen.

After three years, Lu has gained a significantly deeper understanding of the Great Wall. Now she's become an expert in using all kinds of tools and instruments, and she knows well the features and formation of various "diseases" of the Great Wall, such as surface weathering, exfoliation and cracking.

The conservation of the Great Wall calls for perseverance. The ancient Chinese fortifications, mostly located in remote areas with complex topography, stretch thousands of kilometers. In some sections, there's no paved path, so people engaged have to climb on their hands and knees in order to finish their work. It's a lonely task away from the hustle and bustle of the cities.

Guo Hongxiu is a 32-year-old Great Wall ranger located in Sangyuan village, Lulong county, Qinhuangdao, north China's Hebei province. He goes on patrols all year round with his motorcycle over the bumpy mountainous roads, which is also a tradition of his family started by his grandfather in the 1980s.

As the third-generation Great Wall ranger in his family, Guo recalled that his grandfather often took him on patrols when he was a child. "Grandpa always said that the Great Wall is a valuable asset of the Chinese nation and it carries history, so it must be well protected," Guo told People's Daily.

Shang Heng, a young man born in 1984, started working for the Beijing Institute of Cultural Relics, or what's known today as the Beijing Institute of Archaeology, in 2010. He has joined and hosted many archaeological excavation projects of the Great Wall and completed multiple research programs in the past dozen years. He has been to many sites along the Great Wall on foot for research over the past two decades, covering over 3,000 kilometers.

The conservation of the Great Wall calls for innovation. The Great Wall was built and renovated in different dynasties with various building materials and techniques. Therefore, the preservation of it is not an easy task.

Thanks to the ceaseless efforts made by relevant parties, new approaches and achievements of Great Wall studies and protection have kept emerging these years.

Shang, in cooperation with experts in ancient architecture, materials and botany, has turned rescue-oriented renovation of the Great Wall into comprehensive conservation with research and repair. The conservation combines archaeological excavation, multidisciplinary research and digital tracking records, opening a new chapter of Great Wall conservation.

The application of new technologies has placed the Great Wall under better protection. "Relying on precise data, we have incorporated regular monitoring in the routine inspection. We are using digital monitors for inspection, image data collection and patrols every month," said Lu.

With advanced equipment, such as drones, she can complete inspections more easily and analyze the cause and development of "diseases" based on the data collected, thus providing science-based maintenance solutions.

The innovative conservation has well protected the authenticity, completeness and security of the Great Wall. It is believed that a great synergy will be forged through innovative practices and exploration to inject ceaseless impetus into the protection of cultural heritage and the inheritance of history.