Source: People's Daily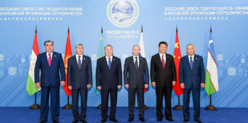 Chinese President Xi Jinping kicked off his four-day state visit to Kazakhstan on Wednesday, during which he is expected to attend the 17th meeting of the Council of Heads of State of the Shanghai Cooperation Organization (SCO) and the opening ceremony of Expo 2017 Astana.
Since the SCO was founded 16 years ago, its members have been lifting their economic and trade ties. They have managed to share resources by extending the collaboration frontiers from energy to free flow of regional commodities, personnel, materials and services.
With abundant oil and gas resources, the other five SCO members have included the exploration of the Chinese market as a key step to diversify their exports. The Chinese market also serves as a springboard to integrate them into Asia-Pacific economy.

A 962-kolometer-long pipeline pumping crude oil from Kazakhstan to northwest China was opened in May, 2006. It was China's first cross-border crude oil pipeline.

Other members, in the following years, reinforced their energy cooperation with China by building oil pipelines, natural gas pipelines and rail lines, as well as increasing energy exports. An "energy pathway" stretching across Central Asia and East Asia has therefore taken shape.

The closer energy cooperation among SCO members has given a strong boost to their economic growth.

A groundbreaking ceremony, for instance, was held in Buxoro of Uzbekistan on May 31 to mark the inauguration of an oil field contracted by Uzbek branch of China Petroleum Engineering & Construction Corporation affiliated to China National Petroleum Corporation (CNPC), the country's largest oil and gas producer.

The project is now under construction in full swing and the phase-I part is expected to be put into operation at the end of this November.

The project will bring great benefits to Uzbek society and economy by not only meeting Uzbekistan's demands for domestic oil consumption and natural gas exports, but also creating more job positions and tax incomes for the country, said Tukhtayev Kabul Mukhammadiyevich, vice chairman of Uzneftegaz, Uzbekistan's oil and gas company.

He stressed that the Uzbek government gives emphasis to the investment and cooperation from Chinese businesses.

What's more, the mechanisms the SCO members set up to ensure smooth oil, gas and other energy cooperation have helped them resist risks brought by supply, demand and price fluctuations.

The SCO has prioritized their efforts in deepening multilateral cooperation, securing benefits of the peoples of its members, and seeking regional economic cooperation.

The heads of state from the SCO members pledged in the SCO Declaration they issued when the organization was founded in June 2001 that they will make use of the great potential and extensive opportunities in trade and economic cooperation among the member states to launch regional economic collaboration under the SCO framework.

The current multilateral cooperation mechanisms adopted by the SCO also lay a foundation for the alignment of the China-proposed "Belt and Road" initiative and the Eurasian Economic Union since the SCO members, observer members as well as dialogue partners, mostly emerging economies and developing countries along the routes, are in urgent demands for infrastructural construction, connectivity, capacity cooperation and financial platforms.

The SCO members are visioned to realize the free flow of regional commodities, capital, service and technologies and build a free trade zone under the framework, with a priority in transportation, energy, telecommunication, agriculture, home appliance, light industry and textile.

So far, China and Russia have reaped rich fruits in big energy, transportation, aviation and aerospace projects, while Kazakhstan has grown into a pioneer for "Belt and Road" cooperation on production capacity. China and Kyrgyzstan also exhibit a new outlook in dovetailing their development strategies.

The SCO has great potential in bolstering regional economic collaboration in the future, concluded Zhao Jinping, Director-General of the Research Department of Foreign Economic Relations under Development Research Center of the State Council.